Currently, the market is flooded with copy products with poor quality made in China, reducing the brand value and the value of genuine goods. No exception for Mecc Alte Avr, customers should check carefully when buy and use it. If you buy a cheap generator avr price (copy Mecc alte Avr), it will lead to many consequences behind. The following news, TTTT hopes to help customers have an overview of how to recognize as well as harmful effects of using poor quality goods, copy goods.
Below is a video clip, which will help you have a perfect look at our genuine Mecc Alte AVR.  You can also get Mecc alte avr dsr price by click to the link.
Mecc Alte AVR: DSR & DER1 – Source: Mecc Alte
---
1. GENERATOR AVR – AUTO VOLTAGE REGULATOR PRICE, QUALITY AND ORIGIN
Genuine Mecc Alte AVR include many types such as UVR6, SR7, RCM/2, ASR, DSR, DER and Mecc Alte DER1,… these are used for each specific model series. In terms of quality, all parts of Mecc Alte have get international standards in production such as ISO9001, ISO14001,..
About original and generator Avr price: Mecc Alte's spare parts in general and AVR in particular are 100% made in ITALY, which valued at about from 250 Euro to 450 Euro depending on the AVR model but Mecc Alte copy, poor quality are usually made in Chinese origin and a few are also recycled by manual electricians. They are all about from 50 Euro to 90 Euro.
With these price differences, quality and protecting functions of Genuine and Copy Mecc Alte Avr will never be the same. There will be many dangers when using the copy one and you should check carefully and understand clearly about automatic voltage regulator for generator price whenever decide to buy
---
2. MECC ALTE GENUINE AVR IDENTIFICATION GUIDE
2.1. Identify genuine Mecc Alte generator Avr by documents.
All of auto voltage regulator for sale including genuine Mecc Alte generator Avr has a full set of documents to prove its origin and quality as below:
"You should request 5 types of documents whenever you buy Mecc Alte AVR"
Ceritficate of Origin – CO (Certified by The Chamber of Commerce)
Certificate of Quality – CQ (Certified by Mecc Alte)
Warranty certificate (Certified by Dealer of Mecc Alte)
Authorized Services Centre Appointment (Certified by Mecc Alte)
Imported document (Packing list, Bill of landing, Declaration, Customs clearance sheet)
In Vietnam, all documents is provided by the Official Authorized Representative of Mecc Alte dealer in Vietnam and Cambodia – TTTT Global Co., Ltd.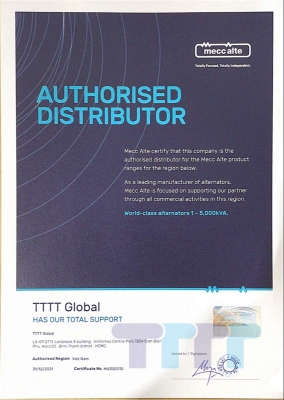 2.2 Identify Mecc Alte genuine and copy AVR by outlook.
Poor quality copy AVR will have a simple function, meager appearance, the lines and braille on the border look rudimentary and unprofessional.
In addition, on the AVR copy, there is not printed Mecc Alte logo as well as the model name and serial number of the product on it, of course, the goods are not carefully packaged in a separate box like the Genuine product.
Copies are usually packaged crudely and put in a yellow carton box without the logo outside. Genuine Avr will be covered with a layer of white foam to resist impact and moisture. In addition, the original box will be blue and have the Mecc Alte logo, like the picture we have below.
On the copy AVR there isn't printed serial number while the serial number is printed on the AVR, it can be checked on Mecc Alte

 
We can provide free support to help customers identify the goods they buy are genuine or not. If you want to know avr in generator price, please contact us. (Copy AVR – left, Genuine AVR – right)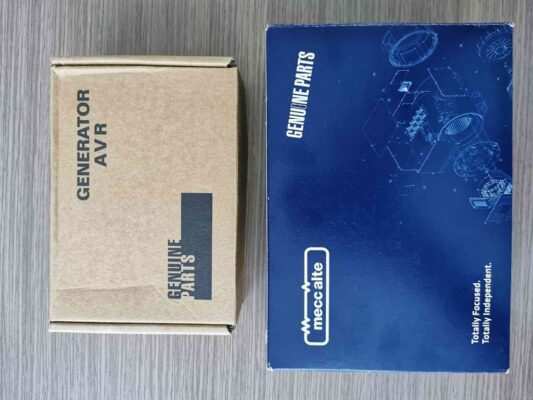 Reference: Volvo penta d8
Reference: Generator diode
---
RISKS OF USING MECC ALTE COPY & POOR QUALITY AVR.
Here are the potential risks of using the Mecc Alte copy AVR:
Alternator will be damaged due to no frequency protection and excitation protection.
Voltage is not stable.
Unresponsive under sudden load.
One important thing, if the Mecc Alte alternator product is still in the warranty period, but the Customer replaces the AVR copy with poor quality, which affects the alternator, we will refuse warranty according to the regulations of Mecc Alte.
---
Contact us for more information at:
TTTT GLOBAL co Ltd,.
Address:  Landmark 4 Building, Vinhomes Central Park, 720A Dien Bien Phu Str, Ward 22, Binh Thanh District, Ho Chi Minh City, Vietnam.
Website: https://ttttglobal.com/en/
Hotline: +84286 2728 334
Email: Info@ttttglobal.com
---
CATEGORY: PRODUCT NEWS
RELATED POSTS
---