General information of PMG alternator and electronic inverter
Unlike traditional AC alternator systems, a Permanent Magnet Alternator allows considerable benefits. Physical benefits with reductions in weight and length, coupled with electronic benefits, ensure a superior technology devised to maximize efficiency of the complete power system.
Our Mecc Alte generator has an inbuilt EMC filter which works in a system with a single phase inverter. Harmonic Distortion is very low at <2% giving superior waveform, guaranteeing the safe operation of modern sensitive electronic equipment.
The power density of permanent magnet alternator TTTT is increased using inverter technology, where the traditional excitation winding systems are replaced and the stator is central with an external rotor. This maximises the potential of the magnets used.
The Inverter produces a pure sine wave inverter for sensitive electronics and is supplied with an optional remote display panel. The inverter has several inbuilt protections such as, short-circuit protection, overload protection, overtemperature protection and has a built in servicer port and auxiliary connector with CAN support.
Popular range of Mecc Alte 3 phase permanent magnet generator: 2kw, 3kw, 5kw, 10kw
Below are our popular 3 phase permanent magnet generator, which is the biggest volume in the range:
| | |
| --- | --- |
| PMG_power_range | Mecc Alte Model |
| permanent magnet generator 2kw | PM3G Lento |
| permanent magnet generator 3kw | PM3G Lento |
| 5kw permanent magnet generator price | PM5G Medio |
| 10 kw permanent magnet generator | PM5G 60Medio |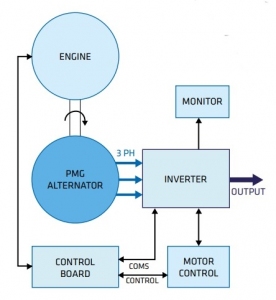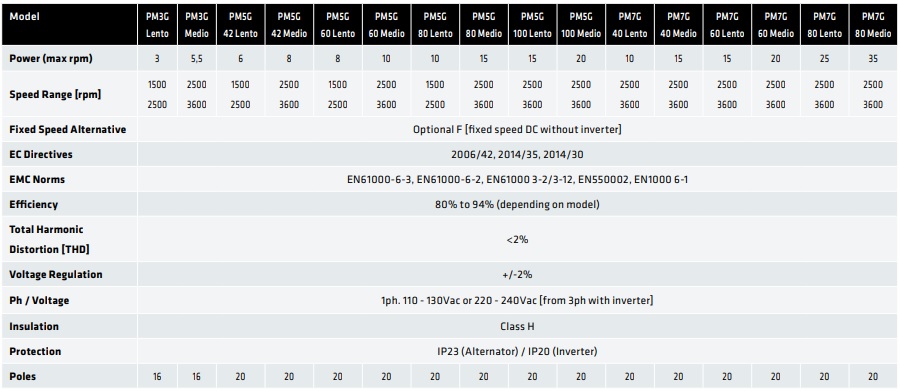 ---
General information of Electronic Inverter 3.6-4-6kW, 8-10kW & 15-20kW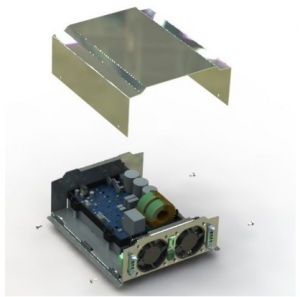 Main Features of the electronic invertor Mecc Alte accessories:
Pure sine wave inverter for sensitive electronics

+/- 5% output voltage stability

+/- 0,1Hz output frequency tolerance

Short-circuit protection

Over-temperature protection
Options:
Stepper motor control (directly from main board or using an external board)

External board (for stepper motor and / or actuators)

Remote display panel (semplified or touch screen)

Parallel operation with auto-balancing power

Output voltage 120V – 60Hz
Typical Applications:
Camper

Boat

Countryside house

Service trucks
Benefits:
Full autonomous system

Auto-start with mains failure detection


Reference: Alternator heater
Reference: Marine alternator
---
Mecc Alte PMG – DC Fixed Speed
The Fisso DC Permanent Magnet Generator is designed to supply specialist lamps on lighting towers, such as high efficiency LEDs and have an in-built rectifier bridge.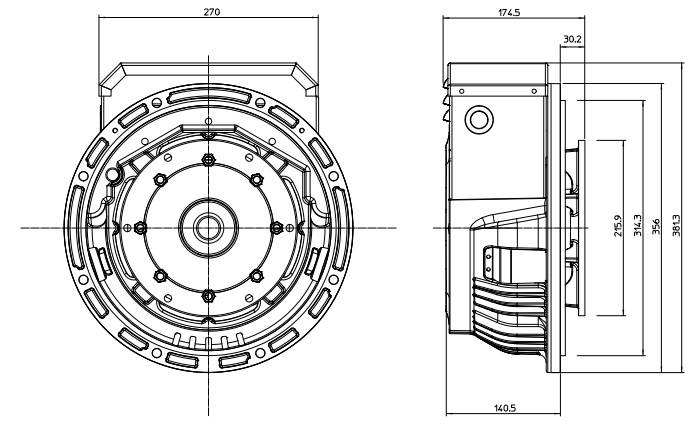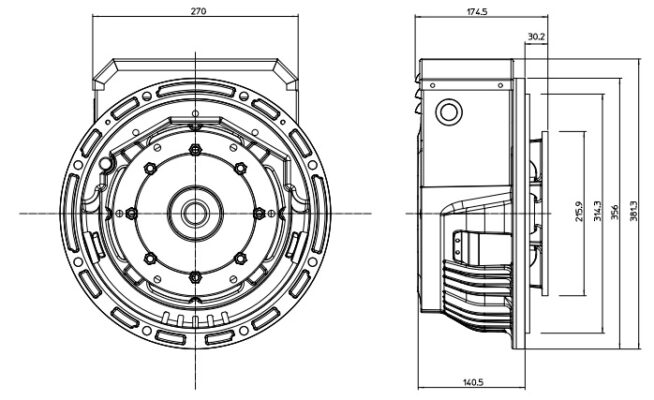 With a PMG system, there are several benefits to the more traditional AC systems:
Smaller compact system

Higher efficiency

Speeds other than synchronous can be fixed to optimize engine power, fuel consumption and voltage output

High power density reducing weight (both alternator and for the engine)

Increased reliability of system removing traditional excitation windings
---
Mecc Alte PMG – DC Variable Speed
The Speed Load Control Mecc Alte Engine Controller (MEC) 12-75 VDC quickly and accurately adjusts engine speed, controlling the generators electrical load by controlling generator voltage, not actual speed. This variable speed operation results in decreased noise, significantly reduces fuel consumption and increases engine life.
The MEC 12-75 VDC, when connected to a proportional actuator and supplied with voltage signal from a DC generator, uses DC voltage to control speed instead of actual engine speed. It supports a wide variety of small engines.
The MEC 12-75 VDC governor is easily paired with GAC ALN-, ALR-, or 120-Series actuators and supports both 12 and 24 V DC.
Variable speed benefits:
PMG output voltage is stable across load range

Full kW rating of PMG is available for use

Engine kW rating can be optimized

Higher Efficiency is obtained

Risk of high no load voltage is reduced
---
For more information about, please contact us at:
TTTT GLOBAL co Ltd,.
Address:  Landmark 4 Building, Vinhomes Central Park, 720A Dien Bien Phu Str, Ward 22, Binh Thanh District, Ho Chi Minh City, Vietnam.
Phone: +84 286 2728334.
Website: https://ttttglobal.com/en/
Email: Info@ttttglobal.com