With unremitting efforts as a Volvo Penta distributor, TTTT Global are developing and promoting professional and standard engines from Europe – VOLVO PENTA (Sweden). This is a brand with a long history of about 100 years, the quality is always at the top of the world in the production of Volvo Penta engine for generators and other heavy industries such as: Excavators, Mining machineries, port equipment, fire fighting pump,…
Currently, Volvo Penta Vietnam TTTT is proud to have been recognized by Volvo Penta Group as a member of the world distributing network and continues to be the official dealer in Vietnam. With a team of well-trained members, we are confident that we can help customers solve problems related to Volvo Penta industrial engine.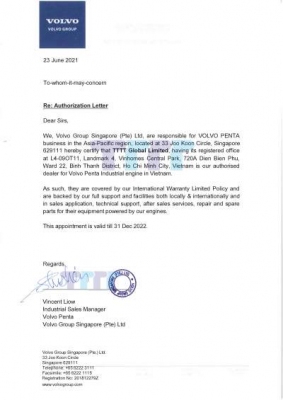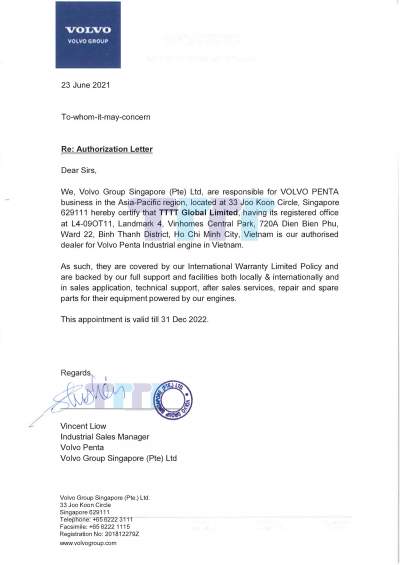 – On the momentum of development, TTTT Global, with the best support from Volvo Penta Singapore, will continue its efforts to promote and bring success and promises to help the heavy industry in Vietnam develop. All information required for goods and support sent directly to VOLVO PENTA headquarters will be forwarded to TTTT for support and customer satisfaction.
Reference: Mecc Alte Cambodia
---
Engine production range distributed by Volvo Penta Vietnam
Volvo Penta alternator engine.
Volvo Penta has more than 100 years of experience developing diesel engines used in generators. This engine line has a capacity from 80kva to 700kva with 3 production plants in Sweden, Germany and India. All three factories produce the same quality standards and the same Volvo Penta spare parts testing process for any Volvo Penta engine.
Volvo Penta VE engine.
This is the strength of Volvo Penta VE engine range with many different applications such as: Mining equipment, wharf lifting equipment, forest mining equipment, agricultural machinery, construction machinery, industrial excavators …
Volvo Penta marine engine
Volvo Penta marine engine is the unit with the largest market share in supplying marine engines (for yachts) in the world (in the power range of Volvo Penta). This is an engine line that requires high technical value, quality and technology and the customers are the most demanding.
---
Contact us for more information about Volvo Penta Cambodia:
TTTT GLOBAL co Ltd,.
Address:  Landmark 4 Building, Vinhomes Central Park, 720A Dien Bien Phu Str, Ward 22, Binh Thanh District, Ho Chi Minh City, Vietnam.
Website: https://ttttglobal.com/en/
Hotline: +84286 2728 334