Sices generator automatic transfer switch and synchronizing controller introduction
Sices controller is an Italy company, which was found in 1970s. At the beginning, its Italian family business but now it become a global company with world wide distributing system and after sale service network. With over 40 years of research and develop, Sices have been building up there trust in customers and their brand position in controller market.
By applying advance technology in production, Sices automatic generator controller has got long life products. Base on that, Sices is offering to their customer the world longest warranty term, 3 years warranty. The reasons, Sices applying this long warranty because they trust on their quality and trust on their result for technical research team.
In 2019, 2 biggest Italy companies in diesel genset (DG) components section are Mecc Alte and Sices have cooperated in order to be stronger in the world competitive market of genset controller . They use each other distributing systems and advantages of brands to increase their controller sale and cover the world market.
TTTT Global as a member of Mecc Alte dealer network, we have signed authorized distributor contact with Sices automatic generator controller TTTT for Vietnam and Cambodia markets. Now we become officially Sices dealers in Vietnam and Cambodia. Our mission is to bring a quality product of Sicec controller to our local markets such as ATS controller, generator controller, Marine genset controller and Synchronizing controller…
---
Advantages of buying Sices controller from TTTT Global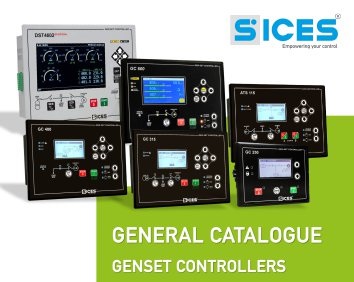 Quick and professional support from Sices generator controller dealers in Vietnam and Cambodia
By having local representative of generator controller, customers can have a very quick technical support. TTTT technical team are trained by Sices and we have experience in troubleshooting, which can help customer to solve any problem in a very short time. Problem solving time is extremely important, when customer generator is having problem.
Fast delivery and cost saving of amf panel for generator manufacturer
The Sices controller (amf panel for generator) can be deliver in the same. If you customer order in the morning, we can deliver it in the afternoon. This solution is our key point, which is not so many controller company can offer it. We always remain stock of all models in our warehouse in Ho Chi Minh and Phnom Penh. Whenever customers needs it quickly, we are able to service it right away. Generator producer also don't need to spend money to stock the controller because we already have full range of Sices product in our warehouse.
The world longest warranty for DG amf panel
Sices warranty time is 3 years, which is the longest warranty time of controller in the world. This policy is showing that we are trusting in our quality and service. This warranty term also make our customer be more confident in our dg amf panel, when they use it for their generator.
Genuine spare parts always stocked for DG auto start panel
In order to warranty 3 years, TTTT has to stock all kind spare parts for all of Sices dg auto start panel models for sale and parts replacement purpose. All parts are genuine and made in Italy.
Sices DG amf controller comes with original import documents
When we deliver Sices dg amf controller, we will always send it with import document to prove with our customers for  quality and origin our products. The document includes:  Sices letter of Appointment – LOA, Certificate of Origin – CO, Certificate of Quality – CQ, Certificate of Warranty – CW.
Notice: Wherever you buy the sices controller, make sure that we will always ask for above import document in order to avoid buying copy sices controller and poor quality products.
Sices DG auto start panel models are all made in Italy
Sices dg auto start panel has only one factory in Italy. That means we have only one quality standard, which is European quality standard.  Made in Italy controller can bring you more trust from your customers on your generator brand.
---
List of Sices generator controller models
Automatic Transfer Switch Controller Sices ATS115
Please click on here to have more information about Sices ATS115
Generator Controller: DST4400, Sices GC250, GC315 Plus & Link
Please click below links to have full detain information about generator controllers of Sices GC250, GC315, GC315 Plus, GC315 Link and DST4400.
Synchronizing Genset Controller: Sices GC 400, GC 600, BTB 200, DST4602 Evolution & Remote
Please click on the photos to have full detain information about synchronizing genset controllers of Sices GC400, Sices GC600 and DST4602.
(SPECIAL VERSION WITH COLOUR MONITOR Sices DST4602 Evolution and DST4602 Remote controller)
(SICES BTB 200 – Additional Busbar & Bar Tie Breaker controller function for synchronization controller )
Synchronizing Generator to Mains Controllers: SICES MC400, MC200
Please click on the photos to have full detain information about synchronizing generator to mains controllers of Sices MC400 and Sices MC200.
Synchronizing genset controller with touch screen: Sices D Monitor
Below is the special version of synchronization controller, which touch screen Sices Dmonitor
Hybrid system controller for Renewable, Battery, Generator power sources – Sices HS 315, RN 200
Above are Hybrid controllers Sices RN200 and Sices HS315, used for special application such as: Telecom and renewable electric sources.
Sices D-pro multi-function relay with wiring diagram
Sices D-PRO multifunction protective relays are used to provide additional generator protection in more demanding applications, such as medium or high voltage power plants, or oil and gas installations.
---
Origin of Sices generator controller
| | |
| --- | --- |
| Model | Origin |
| Sices GC250 | ITALY |
| Sices GC315 Plus, Link, 5G | ITALY |
| Sices GC400 | ITALY |
| Sices GC600 | ITALY |
| Sices ATS115 Plus | ITALY |
| Sices DST4400 |  ITALY |
| Sices DST4602  | ITALY |
| Sices MC200 |  ITALY |
| Sices MC400 | ITALY |
| Sices D-PRO | ITALY |
---
General information about Sices diesel generator controller
Sices software download
Please click the link to download Sices Software Download for all Sices diesel generator controller
Core Values of Sices –  Italy DG Synchronization & ATS AMF Controller
Sices dg synchronization controller is made in Italy, with over 50 years of experience with critical power generation projects, we've learned a thing or two about quality. We know that the cost of our controller may not be much compared to the cost of the entire project, but our synchronous generator controller is the brain and plays an important role in the whole system electricity.
Quality is the guideline of SICES philosophy; therefore, from your initial inquiry to sales posting, our goal is to provide only the highest standard of products and services, best suited for every customer. All of our products and services, including generator synchronous circuits meet ISO 9001 and ISO 14001: quality standards and environmental regulations. . When using the product, customers will always have peace of mind, because for us, the SICES brand must be the leading brand in terms of quality.
All of our products and services, including generator synchronous circuits and ATS amf controller, meet ISO 9001 and ISO 14001: quality standards and environmental regulations. . When using the product, customers will always have peace of mind, because for us, the SICES brand must be the leading brand in terms of quality.
"Our professional team will help you turn your ideas into reality." Yes, a strong brand must build and invest heavily in terms of people, SICES always regularly trains skills for all its members, supports and actively transmits experience. each other, contributing to creating the core value of the SICES brand.
Starting with your initial request, we will provide expert design and consultation services, and work closely with you to ensure the highest quality, reliability and capability, for until providing both a power system and generator synchronization method for projects such as: Telecommunications, Finance, Medicine, Utilities, Construction & Mining, Data Center, Commercial Project Trade, Power Plant, Oil and Gas.
SICES generator controller can boast a long-standing alliance with the energy industry and is qualified to provide comprehensive professional consulting services. All customers when using SICES products give positive feedback and are extremely satisfied with the value that SICES brings to them, for SICES it is a pride, proving that the technology we created has achieved success. worthy results.
Having worked closely with regulators (Enel, ex UTF AdD, GSE, Terna, etc.) applicable regulations and standards required during installation, management and operation to produce a generator control scheme
Sices over 50 years of generator controller experience and development
SICES generator controller has been recognized as one of the most renowned manufacturers in the power solutions market, which I plan to build upon to increase our global visibility and reliable reputation.
"My father, Alberto Curioni, founded SICES in 1977. Alberto Curioni led SICES with a "hands-on" approach to business. He is always there with the customer discussing their needs or on site during system operation, ensuring any issues are resolved immediately. SICES has always been able to provide unique competitive solutions, no matter how complex, including generator synchronizing cabinet design and synchronous conditioning condition guidance. Alberto Curioni is constantly striving for technical excellence, which has pioneered innovative solutions to the problems facing customers.
A prime example of this is that in the early days of microprocessor-based control, SICES was able to deliver extremely advanced solutions, significantly reducing project cost and complexity, while minimizing the risks of implementing such emerging technology."
"My challenge is to continue to shape the business for today's globalized market, to build resilience over the next 40 years. Our strength lies in finding the right balance between implementing modern business management, implementing commercial agility, and maintaining a 'technical excellence first' approach to solutions. .
The entire SICES team has an important role to play in our success. I am engaging our employees by sharing management roles and increasing their accountability for the future of our company.
We are building new partnerships with key players in the industry, adding value to both sides and bringing increased opportunities to the market. During that time, we maintain and grow our existing SICES customers, who enjoy our long-term care and technical capabilities. "
Quality of Italy Made and 3 years Warranty of generator controller
SICES ensures all of our products have passed rigorous Quality Assurance checks during design and manufacturing approvals. Each step is supervised by a team of experienced technicians, including the robot, which increases the accuracy to near-perfection.
In addition, the SICES generator controller screen is also subjected to a unique and rigorous 48-hour cycle continuous use test, to eliminate possible early life failures. The controller can be seen as the programming brain of the attached device, so when the controller fails, the whole system is affected, which motivates us to be very careful, each product The controller that comes out of the factory with the SICES brand on it must be a high quality product.
We design and build SICES controllers to last, providing years of free service. This is by no means an empty promise and most SICES controllers come with a 3-year warranty, which guarantees against component defects and manufacturing defects. Quality products made in Italy, fully meeting EU standards.
---
Contact us for more information at:
Company name: TTTT Global,.
Address:  Landmark 4 Building, Vinhomes Central Park, 720A Dien Bien Phu Str, Ward 22, Binh Thanh District, Ho Chi Minh City, Vietnam.
Website: https://ttttglobal.com/en
Hotline: +84286 2728 334
Email: Info@ttttglobal.com