The SICES BTB200 controller is used to control and manage bus tie breaker and busbar electrical panel and busbar components. The controller is specialized in cases where it is necessary to divide the common busbar into many smaller busbars for easy control and control of the system. BTB200 can control busbar switches, can control various complex sources.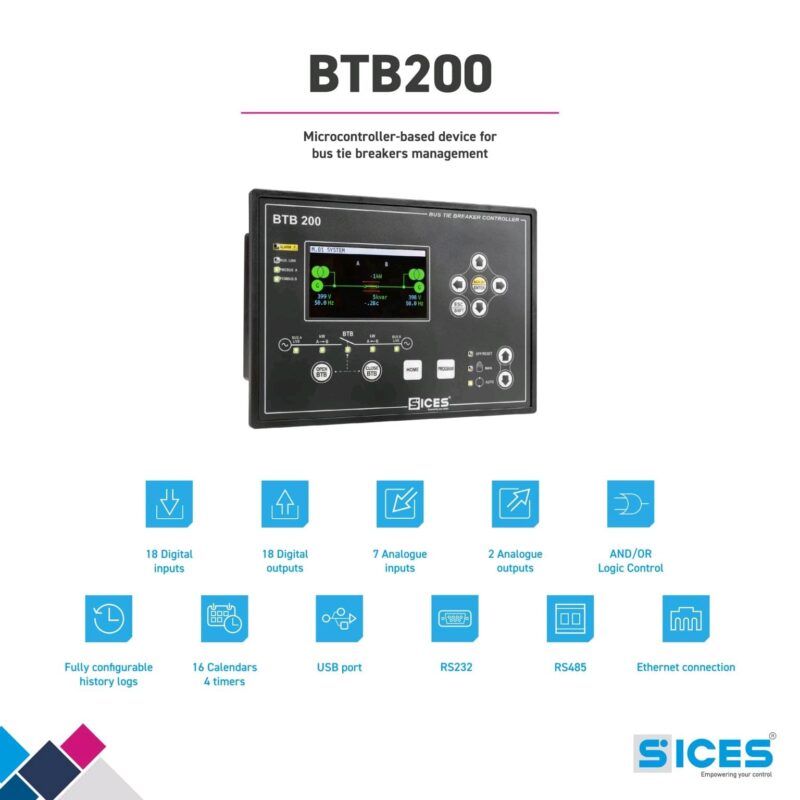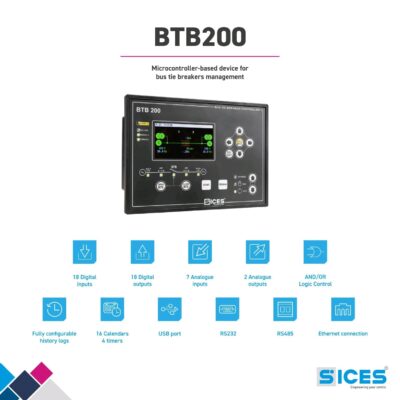 | | |
| --- | --- |
| SICES CONTROLLER | INFORMATION |
| Origin of SICES BTB200  | Italy  |
| SICES BTB200 Manual pdf | Download |
| Application of SICES BTB200 | Control busbar switching, used in cases where it is necessary to divide the common busbar. |
| Connecting Ports of SICES BTB200 | RS232, RS485, Ethernet, USB, CANBUS. |
---
Key information about the Sices BTB200 controller
TTTT Global is currently a genuine Sices

automatic generator controller

representative.

The BTB200 controller provides busbar breaker control, for applications that need to split common busbars under certain operating conditions.

BTB200 controller is a set of devices capable of managing the synchronization between two separate bus halves (named busbar A and busbar B), based on the input signal, taking into account the number of generating sets connected on two halves of the busbar.

Generator synchronization is achieved directly by connecting CANBUS to the SICES generator controller, or by using analog lines.

Sices BTB200 TTTT

measures the current through the 3-phase breaker with a current transformer. It can measure active power (kW), reactive power (kVAr) and apparent power (kVA) operating on the busbar, in addition it can measure the power factor Cos on the busbar. Show direction of current(from busbar A to busbar B or vice versa) on display panel and by LED on front panel.

The BTB200 also measures the total amount of energy on the busbars using an energy counter.

For complex applications, it is possible to reconnect to the same CANBUS up to 8 BTB200 busbar interrupter controllers and up to 16 MC200 power controllers and up to 16 GC600 generator controllers or DST4602 Evolution.

The BTB200 offers a number of different communication options, to ensure easy integration of remote monitoring facilities and building management systems.

The BTB200 has a large full-color display that displays the operating status in a clear, easy-to-view format. Combined with the wide input and output capabilities, it is possible to meet all the complex processing cases of the system.

On the TTTT Global site, you can download Sices BTB200 manual pdf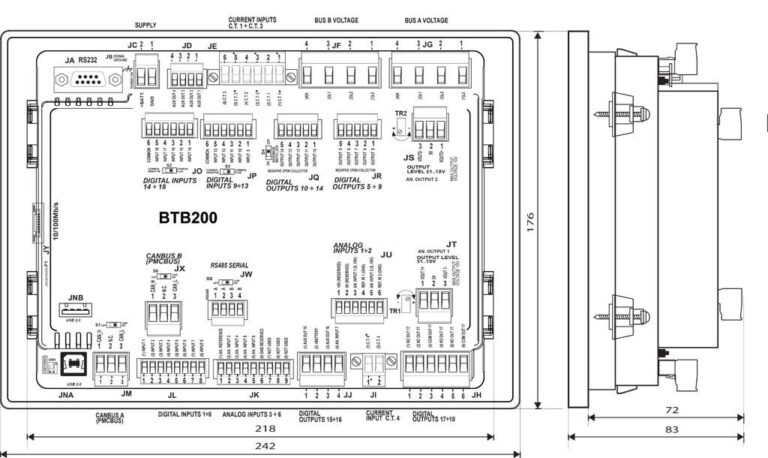 Reference: Sices D-pro
Reference: Sices DST4400 
---
Sices BTB200 controller specifications
Connection port
18 Digital inputs.

18 Digital outputs.

7 Analogue inputs.

2 Analogue outputs.

1 RS232 serial port (Modbus RTU).

1 RS485 insulated serial port (Modbus RTU).

1 10/100Mbps Ethernet port (Modbus TCP).

1 USB FUNCTION port (Modbus RTU).

2 CANBUS electrical interfaces (for 2 more of the busbar).
REWIND device for SIMONE remote monitoring connection.
Functions that can be installed
Logic control AND/ OR.

16 calendars and e timers.

Automatic/manual synchronization direction selection.

Automatic or manual synchronization.

Adjust voltage, frequency and phase accordingly for synchronization.

Direct management of circuit breakers or contactors.

Dedicated push buttons to open/close the busbar breaker manually.

Alternative configuration: 4 configurations.

Synchronization with real time.

Record data periodically and on historical diary.

Programmable siren.
Calculated values 
Active power (P, kW).

Reactive power (Q, kVAr).

Apparent power (S, kVA).

Current (I, A).

Voltage (U, V).

Power factor (Cos φ).
The above value is shown in both busbar A, Busbar B and the sum of both busbars.
Methods of protection
Frequency reduction (81U).

Increased frequency (81O).

Pressure relief (27).

Overvoltage (59).

Short circuit (50).

Overload (51).

Overcurrent phase with voltage control/limiting (50V/51V).

Maximum auxiliary current.

High/low supply voltage.
Device information 
Supply voltage: from 8 to 32 Vdc.

Active power: less than 6W (standby mode, controller on, LCD light off).

Operating frequency: 50Hz or 60Hz.

3″ TFT color screen with backlight.

Graphics display resolution: 480×270 pixels.

Graphic display size: visible surface 95×54 mm.

Operating temperature: -25oC to 60o
Storage temperature: -30oC to 80o

Standard degree of protection: IP65 (when the gasket is installed correctly).

Weight: 1100g.

Overall dimensions: Length 244 x Width 178 x Height 83 mm.

Cutting board: 218 x 159 mm.

EMC: Complies with EN61326-1.

Safety: Built in compliance with EN61010-1.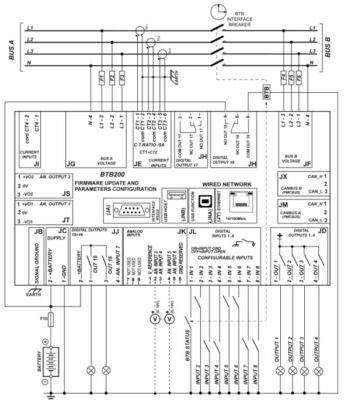 ---
If you need more information about generator control panel diagram or generator synchronization panel
TTTT GLOBAL co Ltd,.
Address: Landmark 4 Building, Vinhomes Central Park, 720A Dien Bien Phu Str, Ward 22, Binh Thanh District, Ho Chi Minh City, Vietnam.
Website: https://ttttglobal.com/en/
Hotline: +84286 2728 334
Email: Info@ttttglobal.com