Sices HS315 is hybrid system controller is specialized for 48V DC generator hybrid charge controller in telecommunications applications. SICES HS 315 reduces fuel consumption and generator uptime by reducing generator run time. The HS 315 provides the ability to optimize generator time and fuel. 
Sices HS315 can also comprehensive control and protection of the genset, the battery, the charging system and of an auxiliary renewable power source such as hybrid solar charge controller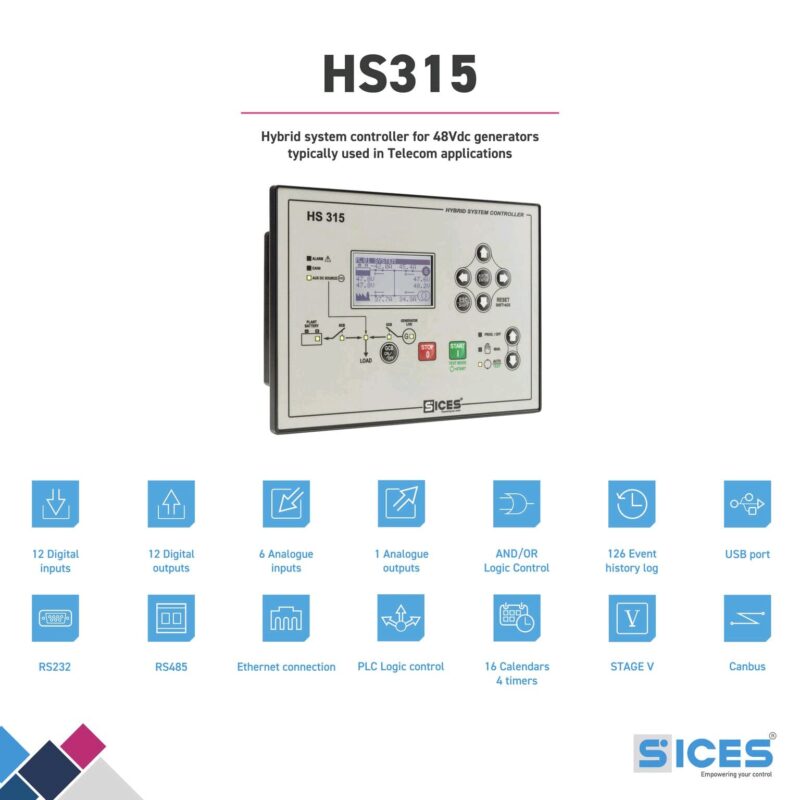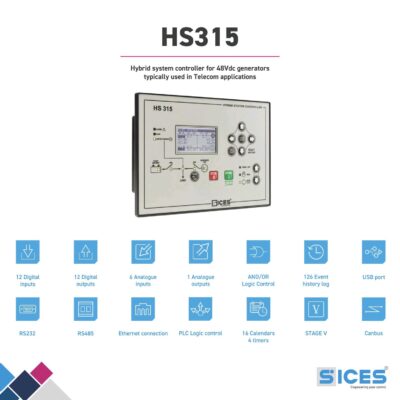 | | |
| --- | --- |
| SICES CONTROLLER | INFORMATION |
| SICES HS315 Origin | Italy |
| Manual pdf | Download |
| Application | Hybrid system controller for 48V DC generator in telecom application |
| Connecting Ports | USB, RS232, RS485, Ethernet, CANBUS |
---
Main information of Sices HS315
TTTT Global is currently a genuine Sices

diesel generator controller

representative.

HS315 is a device used to reduce generator running time and optimize fuel consumption and running time.

HS315 Hybrid Controller features full-on-site voltage and current monitoring with smart battery communication.

HS315 has been designed to control DC generators and can monitor load and battery levels, as well as manage generator automatic stopping and starting.

Specific functions have been included to ensure complete control and protection of the generator, battery, charging system and auxiliary renewable energy source.

Controlling the battery's current charge and it's charging process ensures long battery life, reduced fuel consumption and engine maintenance/maintenance.

The integrated BMS provides information such as charge rates and remaining supply time estimates, allowing manual control of the system. Configurable specific In/Out is provided to meet the specific requirements of the application.

Extensive input and output capabilities with optional traditional interfaces (HS315 Link 5G-ready versions) make the HS315 an extremely powerful single-generator controller.

Sices HS315 TTTT

is compatible with both electronic CANBUS J1939 motors and non-electronic motors.

All parameters can be set directly with the controller keypad or using the free software tool (BoardPRG4), available on our website

Historical events and DTC logs can be accessed from the front panel and read on the display.

The HS315 supports several communication interfaces for local or remote control.

HS315 has integrated global 5G modem with global 2G redundancy, it also program GNSS localization system (GPS / GLONASS / BD) to provide high availability solution, providing Industry leading precision and performance. Useful when tracking and monitoring equipment is required.

On the TTTT Global site, you can download Sices HS315 manual pdf all application including hybrid charge controller or hybrid solar charge controller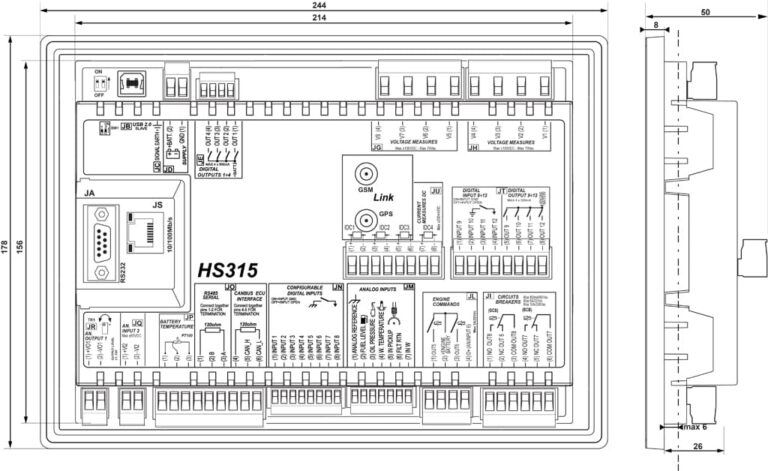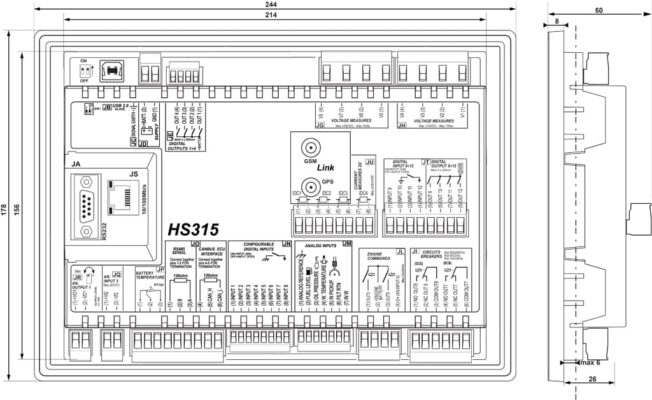 Reference: Sices DST4602 Remote
Reference: Busbar electrical panel
---
Sices HS315 Specifications
Connection port
12 digital input ports.

12 digital output ports.

3 analog input ports.

1 analog output port.

AND/OR logic control gate.

1 USB port.

RS232 Modbus RTU serial port (supports external modems).

RS485 Modbus RTU serial port.

Ethernet port N.1 (RJ45) Modbus TCP.

CANBUS interface J1939 insulation N.1.
Connection port
12 digital input ports.

12 digital output ports.

3 analog input ports.

1 analog output port.

AND/OR logic control gate.

1 USB port.

RS232 Modbus RTU serial port (supports external modems).

RS485 Modbus RTU insulated serial port.

CANBUS interface J1939 insulation N.1.

GPRS modem.

GPS antenna.

Motion sensor, accelerometer and gyroscope.

CE1588 compliant.
Other options
REWIND – GPRS/GSM/GPS device.

DANCE – Ethernet interface.

ANTENNA GPRS or GPRS + GPS.
HS315 and HS315 Link provide direct interface with SIMONE software, for real-time monitoring system without any external devices.
Functions that can be installed in Sices HS315
Automatically start and stop the generator, according to the voltage and charge of the storage battery.

Fully integrated "Battery Management System" (BMS), for maximum performance and battery life.

Compensate for voltage and current according to battery temperature.

Speed ​​control or excitation control of the motor.

Ancillary renewable power management.

Dedicated configurable inputs for DC voltage and current.

Real-time clock and event log.

Freely configurable timer.

Genset fuel consumption and reduced maintenance.

Several communication ports are available.

Automatic/manual start with configurable start/stop timers.

Configurable inputs and outputs.

Visualization of storage batteries: temperature, remaining battery, depth of discharge (DOD).

Auto-start/don't rely on storage battery state.

Engine diagnostic code.

Regular check-ups.

Real-time clock with rechargeable Lithium battery inside.

Fuel pump management.

126 event logs.

32 additional event logs for storage battery charging/discharging.

Manage pre-heating and cooling.

Remote start and stop.

Timer for maintenance schedule.

Daily counter with programmable schedule for maintenance.

Programmable siren.

Measure motor speed by selector, frequency or W.

Configurable using PC or controller keyboard.

Remote firmware update.

Contact SMS.

Supports NTP, DHCP, DNS e SNMP.
Device information in Sices HS315
Supply voltage: 7 to 32 VDC.

Power Consumption: Typically less than 2W (auto mode, standby mode, LCD lamp saving operation).

Operating frequency 50Hz or 60Hz (AC read only).

LCD with backlight.

Operating temperature: -25oC to 60oC.

Record at temperature: 50oC for 48h with test report for each controller.

Degree of protection: IP65 (including gasket).

Weight: 750 gr.

Overall dimensions: Length 244 x Width 178 x Height 50 mm.

Panel cut: Length 218 x Width 159 mm.

Graphics display size: 70x38mm – 128×64 pixels.

EMC: conforms to EN61326-1.

Safety: Built in compliance with EN61010-1.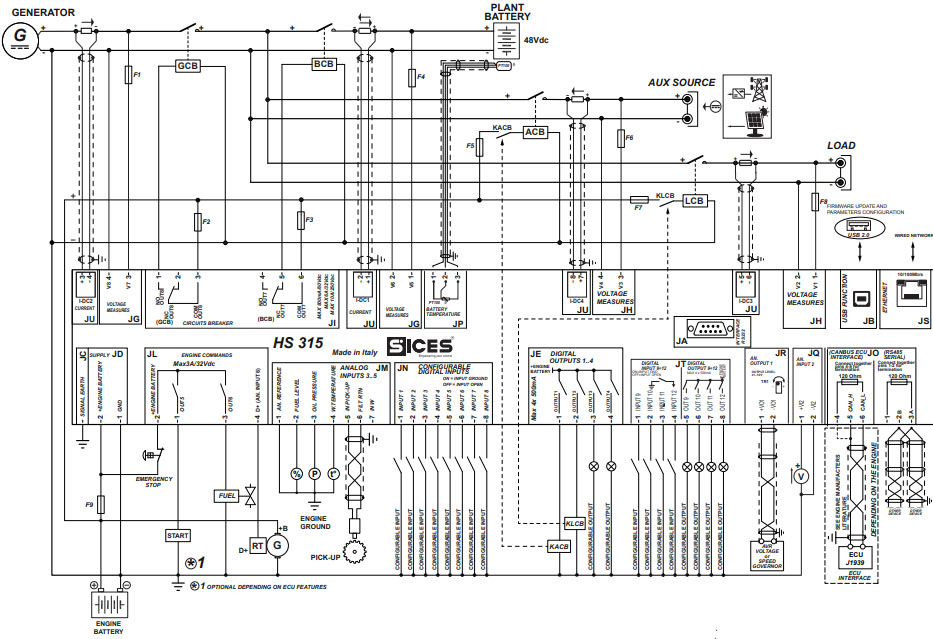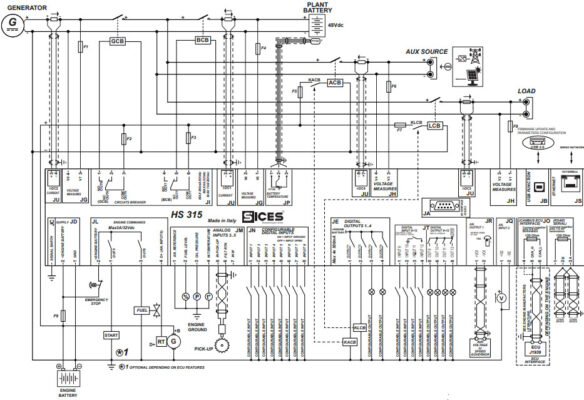 ---
If you need more information about generator control panel diagram or generator synchronization panel
TTTT GLOBAL co Ltd,.
Address: Landmark 4 Building, Vinhomes Central Park, 720A Dien Bien Phu Str, Ward 22, Binh Thanh District, Ho Chi Minh City, Vietnam.
Website: https://ttttglobal.com/en/
Hotline: +84286 2728 334
Email: Info@ttttglobal.com