Sices DST4602 Evolution is a generator synchronized controller has a large and full color display for advanced and complex parallel control scenarios, can work in island and parallel modes parallel to the power supply. The DST4602 Evolution has guaranteed PLC connectivity and rich input and output specification.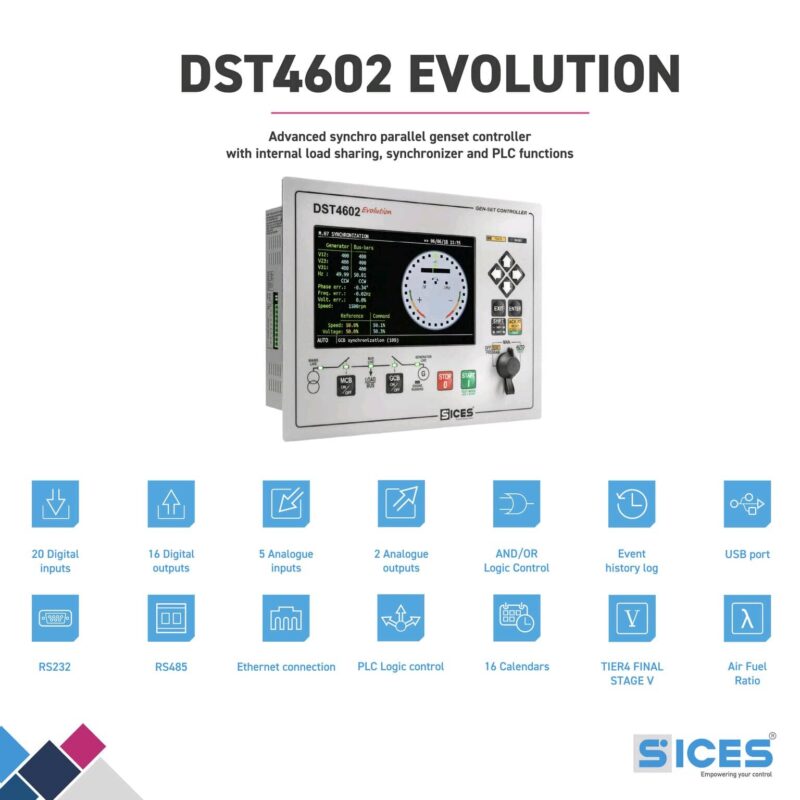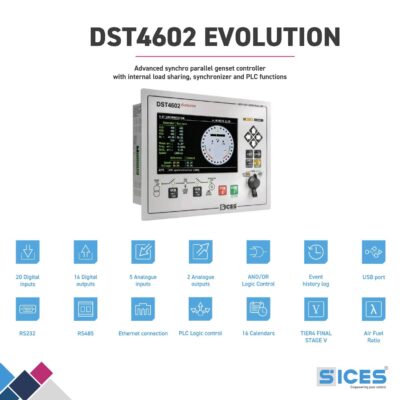 | | |
| --- | --- |
| SICES CONTROLLER | INFORMATION |
| SICES DST4602 Evolution | Italy Origin |
| SICES DST4602 Evolution MANUAL PDF | Download |
| APPLICATION OF SICES DST4602 Evolution | Advanced and sophisticated parallel control, working in island mode and parallel to mains power. |
| CONNECTION PORT OF SICES DST4602 Evolution | USB, RS232, RS485, Ethernet, GPRS/ GSM, GPS. |
Synchronous controller DST4602 EVO
---
Description of Sices DST4602 Evolution synchronous controller
TTTT Global is currently a genuine Sices

synchronization controller

representative.
Sices DST4602 Evolution is the top-level device among SICES controllers.

It is an highly configurable genset controller for advanced and complex parallel applications, where a huge number of settings are required (functions and parameters) for the genset management, and its auxiliary circuits.

Sices DST4602 Evolution TTTT allows to connect up to 24 gensets on the same bus, working in island mode and in parallel with the mains.

Thanks to the controller's high configurable level and built-in PLC functions (with PID blocks), DST4602 Evolution can be used for CHP power plants equipped with Gas, Diesel, Biofuel and Dual fuel Engine.

The controller also features fully integrated Air-Fuel Ratio (AFR) control, furthering its ability for such applications.

Sices DST4602 Evolution is  with fully equipped with internal Load Sharing, Synchronizer and W and VAR regulation. This controller includes a CAN J1939 interface, supporting a wide range of engines (Volvo Penta, Scania, Perkins, MTU, Deutz, Cummins, John Deere, Caterpillar and others). It can be also used with traditional engines, where measurements and control are performed by the embedded analogue interfaces.

DST460 2Evolution can be used together with all Sices genset controllers (GC600, GC400). In case of multiple gensets in parallel with the mains where the reverse synchronization is required, DST4602Evolution can be interfaced with the Sices mains controllers (MC200, MC400), to avoid in this way any further blackouts on the loads.

The controller's configurable parameters make standard and customized tasks easy to manage.

All the parameters can be set directly by the controller's keyboard or, alternatively using the free software tool (BoardPRG3), available from SICES' website.

It is also available a free PLC software editor, (SicesPlcEditor) to set the PLC logics.

The enhanced and large 7" graphic colour display with TFT technology, is a user-friendly interface, conceived for a quick and easy visualization of measures and alarms coming from the genset.

This controller stores events and periodical data in the internal memory, this information can be read from the front panel display.

DST4602Evolution provides several communications interfaces for local or remote control.

In case of complex applications, like Oil&Gas stations, the inbuilt protections can be expanded by using the external protection relay D-PRO.

On the TTTT Global site, there is not only the Sices DST 4602 Evolution pdf but also the Sices DST 4602 Evolution manual.
MAIN FEATURES
Digital UP/DOWN commands for speed governor and AVR.

Mains and Genset circuit breaker management.

True RMS readings on generator and mains voltages and on generator currents, with an additional current measurement for neutral or differential protection. Active, reactive and apparent power measurements.

Frequency and power measurements on mains input.

20 fully programmable digital inputs with possibility of additional several inputs.

16 fully programmable digital outputs with possibility of additional several outputs.

Several communication tools (RS232, Insulated RS485, RJ45 Ethernet, USB port).

Large TFT graphic coloured display 7'' 800×480 pixel.

Real Time Clock, events and data recording.

Remote control systems.

KEMA Certification – Guideline BDEW (DE).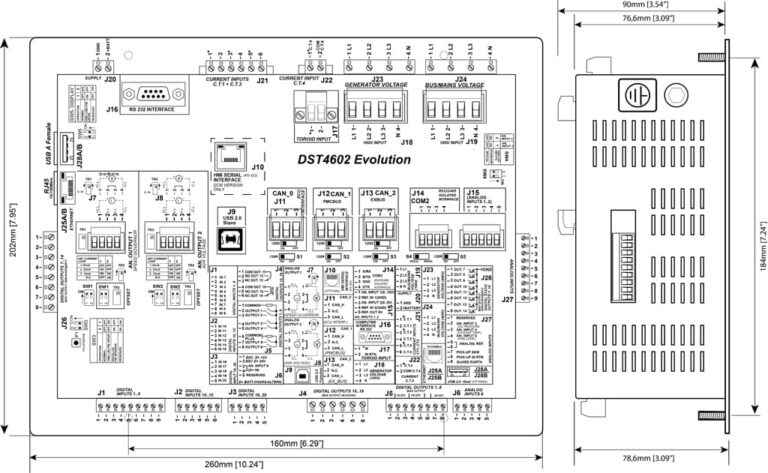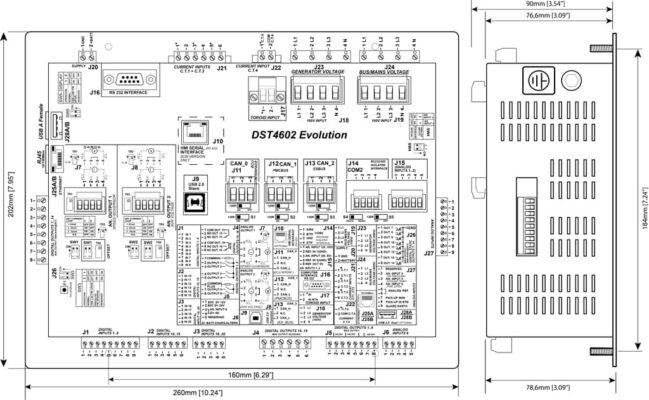 Reference: Sices dst4400
Reference: Sices GC250
---
Scies DST4602 Evolution Specification
Connection ports
20 digital input ports.

16 digital output ports.

5 analog input ports.

2 analog output ports.

N.1 Serial port.

N.1 Modular serial port MODBUS RTU.

AND/OR logic control gate.

N.1 USB port can upgrade the firmware.

N.1 USB port with MODBUS RTU protocol.

RS232.

RS485.

PLC logic control gate.

N.1 Ethernet port with Modbus TCP protocol.

Manage GSM and PSTN modems directly.

Automatic call or SMS in case of an event.
Other options
GSM modems.

REWIND – Modular interface for SIMONE using GPRS/GSM and GPS technology.

DANCE – Modular interface for SIMONE using Ethernet technology.

SicesSupervisor3 and SIMONE monitoring software.
Sices DST4602 Evolution methods of protection
Protection of AMF Mains
Low voltage (27).

Overvoltage (59).

Low frequency (81U).

Excess frequency (81O).

Loss of rod equals voltage (47).
Power failure protection
Frequency change ratio (81R ROCOF).

Transform vectors.

Low voltage (27).

Overvoltage (59).

Low frequency (81U).

Excess frequency (81O).
Generator protection
Maximum capacity.

Low frequency (81U).

Excess frequency (81O).

Overvoltage (59).

Source direction (32).

Loss of arousal (40).

Overload (51, 51V).

Short circuit (50, 50V).

Synchronization check (25).

Phase sequence (47).

Loss equals current and voltage (46/47).

Earth fault protection (64) replaces neutral protection (50N).

Negative sequence (12).
Engine protection
Over speed (12).

Incomplete sequence (48).

Break the belt.

Warning of coolant and lubricating oil temperature.

Lubricating oil pressure warning.

Maximum strength.

Fuel level.

Emergency stop.
Device information
Supply voltage: 8 to 33 VDC.

Power consumption: Typically less than 7W (+ 5W for display lights).

Operating frequency 50Hz or 60Hz.

Digital input: opto-insulated.

Screen 888×480 Pixel TFT, 7" color.

Static output: 500mA 25oC, 360mA 50oC.

Auxiliary relay output: 1/2.5/4A 30V.

Operating temperature: -20oC to 60oC.
Storage temperature: -30oC to 80oC.

Mounting by control: by rivet bolts.

Degree of protection: IP54 (front panel, with the addition of cover and key lock guard).

Weight: 1600 gr.

Overall dimensions: Length 260 x Width 202 x Height 86 mm.

Panel cut: Length 240 x Width 172 mm.

EMC: conforms to EN61326-1.

Safety: Built in compliance with EN61010-1.
---
Application types of Sices DST4602 Evolution Controller
Only GCB (No MCB): For those factories where the genset controller does not directly manage the MCB (main circuit breaker).
GCB + MCB
Including MCB + GCB: For factories that directly control MCB: generators work in emergency or in parallel with the mains.

---
Additional monitor (Sices DST4602 Remote)
For each local DST 4602 Evolution, one or more remote displays can be added, called Sices DST4602 Remote.

This solution is generally recommended in the case of a remote control room where the power generation system needs to be monitored. Up to 4 remote displays can be connected to a single DST4602 Evolution controller.

Connection between DST4602 Evolution and DST4602 remote:

Quan Modbus RTU RS485 (max 800m).

Over Ethernet TCP/IP (up to 100m without any hub).

If via ethernet, several DST 4602 Remotes can be connected to a local controller.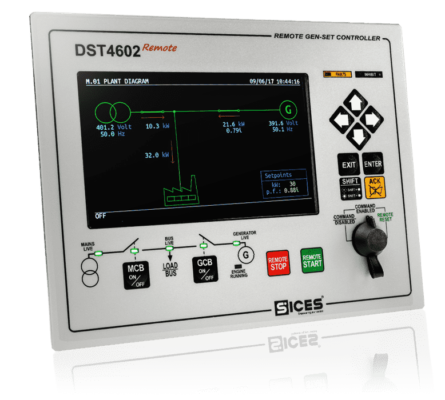 Graphic display
DST4602 Remote is equipped with a powerful 7" color graphic screen TFT-800×480 pixels.
Key selector control
Command disabled: no operations are allowed.

Commands enabled: all operations are allowed.

Remote reset: reset alarms/warnings.
Button
Remote start: start is enabled if the operating mode of the local controller is AUTO.

REMOTE STOP: used to stop the transmitter remotely.

If the generator has been started using the DST4602 Remote, the "REMOTE STOP" button will stop the generator immediately without any cooling action.

GCB: to open/close the Genset circuit breaker manually.
Security
System security can be increased with a separate password, on both local and remote controllers.
---
Split version of Sices DST4604 Evolution
This controller can be supplied in two separate units (display + control unit), for specific uses and assemblies. Alternatively, you can choose between a version with a film selector switch or with push buttons for operating mode selection.

Below, the user interface with the display unit, is mounted on the door of the panel and the controller is mounted inside the panel.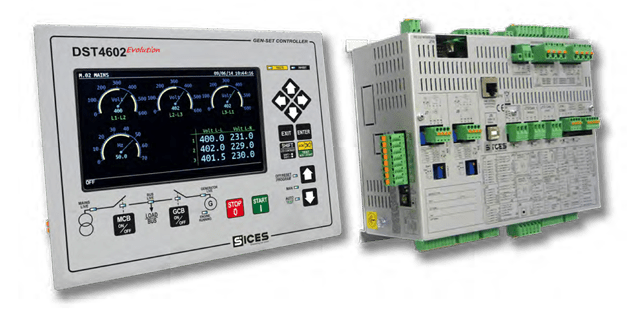 Synchronization functions
The DST 4602 Evolution has an innovative and automatic start sequence built in, allowing for rapid parallelization of several transmitters in up to 9 – 15 seconds.

The advanced system, known as fast parallelism or Dead Bus parallelism, is an effective solution for sensitive stations where any power failure, even for a few seconds, can cause major problems. people and data security, by creating damage during the production process.

Using the Fast Parallel feature, generators are turned on, synchronized, and ready to deliver within seconds of a power failure signal.
Backup functions
In sensitive tests, it is necessary to ensure safe control of the unit.

Basically, reliable control is achieved by using the main unit that can control the generator, in combination with the backup unit.

The main unit is equipped with a self-diagnostic system, which can detect any controller failure.

After some time has passed and can be set, the backup unit will automatically turn on, responsible for controlling the generator.

When the primary device turns on, the backup device turns off and vice versa.

This way, there is no risk of command failure between controllers.
Control ability
Operation mode selection: With selector and with two dedicated push buttons.

The most button Start and Stop of the engine.

Command GCB and MCB using push buttons.

ACK/MODE (disables audible alarm and other auxiliary functions.

Four arrow keys for LCD screen selection mode, window selection, parameter change and other keys.

EXIT, ENTER and SHIFT keys.
---