The Sices DST4602 Remote controller, is intended to be used as an additional remote control option for the Sices DST4602 Evolution and can also be used with the DST4602 Standard. Generator remote control functions such as: Remote display, remote configuration and remote generator control.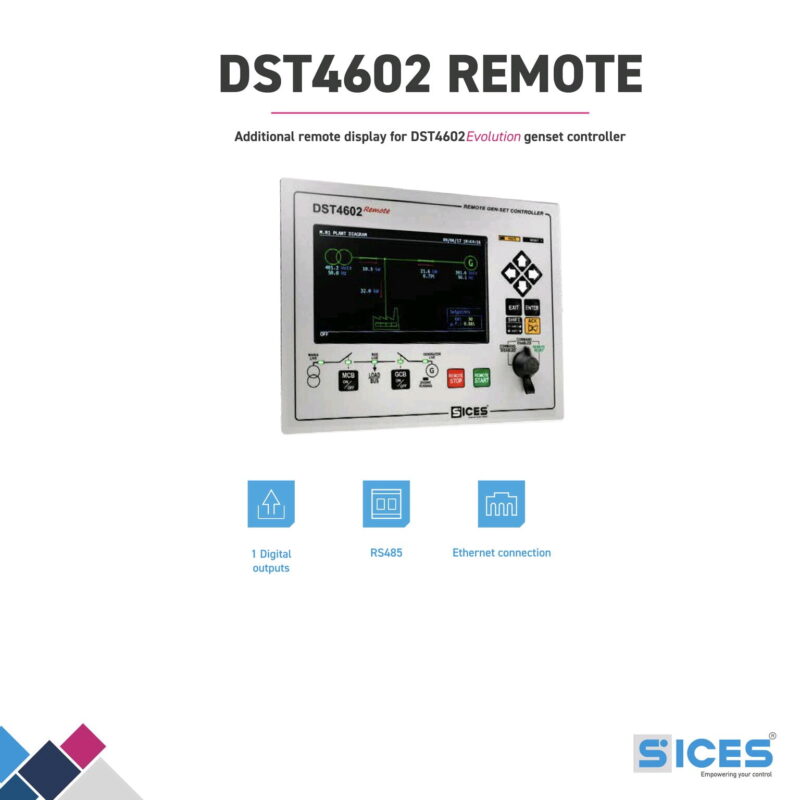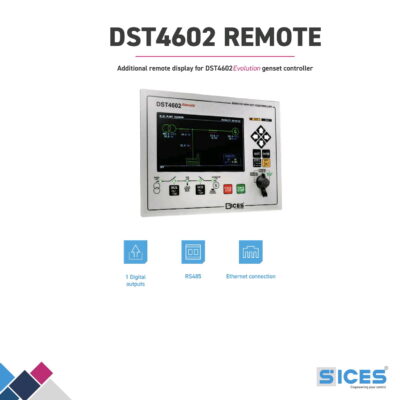 | | |
| --- | --- |
| SICES DST4602 REMOTE | INFORMATION |
| ORIGIN of SICES DST4602 Remote | Italy  |
| SICES DST4602 Remote MANUAL PDF | Download |
| APPLICATION of SICES DST4602 Remote | Generator remote control display for DST4602 Evolution controller. |
| CONNECTION PORT of SICES DST4602 Remote | RS4602, Ethernet. |
DST4602 EVO Synchronous Controller – DST4602 remote controller for common use

---
Description of Sices DST4602 Remote synchronous controller
TTTT Global is currently a genuine Sices

synchronization controller

 representative.

The DST4602 Remote is an additional remote display for the DST4602 Evolution, allowing remote control and configuration. It can also connect to DST4602.

It's the same size as the controller's interface (same 7″ TFT color screen, with corresponding lights and buttons).

Sices DST4602 Remote TTTT can be connected to the DST4602 Evolution by:

RS485 electrical serial port (up to 800m): Only one DST4602 Remote is allowed per DST4602 Evolution.

Up to 100m Ethernet port without any hub: Only one DST4602 Remote is allowed per DST4602 Evolution.

The monitor comes with a key switch that is used to enable/disable remote commands and to reset alarms.

The remote command is enabled only if the main controller is in auto mode.

The operator can start/stop the motor manually or can open/close the circuit breakers manually.

The operator can manually change the configuration parameters of the main controller.

An internal buzzer is provided to signal the alarm.

The DST4602 Remote provides configurable digital outputs (three terminals, 1Amp dry contact relay). It can be used for external horn management or to highlight the loss of communication with the main controller.

On the TTTT Global site, you can download Sices DST 4602 Remote manual pdf
Main features
Remote START/STOP commands for the device.

Remote Open/Close commands for circuit breakers.

Mute the sound siren remotely.

Confirm and reset error remotely.

Configure remote parameters.

Local/remote communication settings are available from the front panel or by BoardPrg4.
Reference: Sices BTB200
Reference: Sices GC315
---
Sices DST4602 Remote Specification
Control Functions
Command disabled: No operations are allowed.

Commands enabled: All operations are allowed.

Remote reset: Reset alarms and alerts.

Remote start: Start is enabled if the local controller operating mode is automatic.

REMOTE STOP: Used to stop the transmitter remotely.

If the generator is started by DST4602 Remote, "RETOME STOP" will stop the generator with cooling operations.

If the alternator is to be started by the DST4602 locally, "RETOME STOP" will stop the alternator immediately without any cooling action.

GCB: To open/close the device circuit breaker manually.

Security: System security can be increased with a separate password, on both local and remote controllers.
Sices DST4602 Remote Device information
Supply voltage: 8 to 33 VDC.

Power consumption: up to 5W.

Screen 888×480 Pixel TFT, 7" color.

Operating temperature: -20oC to 60o
Storage temperature: -30oC to 80o

Mounting by control: by rivet bolts.

Degree of protection: IP55 (front panel, with the addition of cover and key lock protection pad).

Weight: 950 gr.

Overall dimensions: Length 260 x Width 202 x Height 86 mm.

Panel cut: Length 240 x Width 172 mm.

EMC: conforms to EN61326-1.

Safety: Built in compliance with EN61010-1.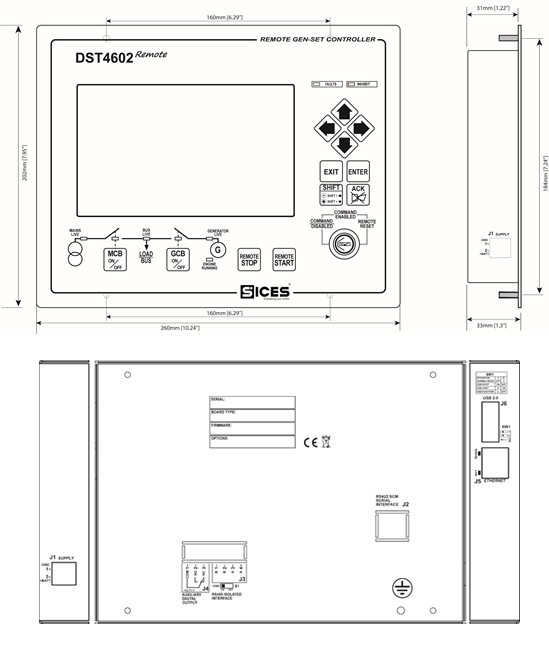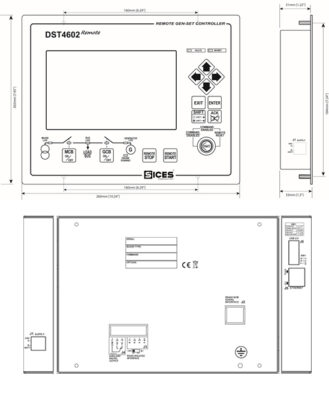 ---
If you need more information about generator control panel diagram or generator synchronization panel
TTTT GLOBAL co Ltd,.
Address: Landmark 4 Building, Vinhomes Central Park, 720A Dien Bien Phu Str, Ward 22, Binh Thanh District, Ho Chi Minh City, Vietnam.
Website: https://ttttglobal.com/en/
Hotline: +84286 2728 334
Email: Info@ttttglobal.com