Sices GC600 Mains is equipped with a high-graphics screen, used to manage generator sets operating in parallel with the mains. The GC 600 has a PLC function and other communication ports on the stop controller to synchronize power sources with each other.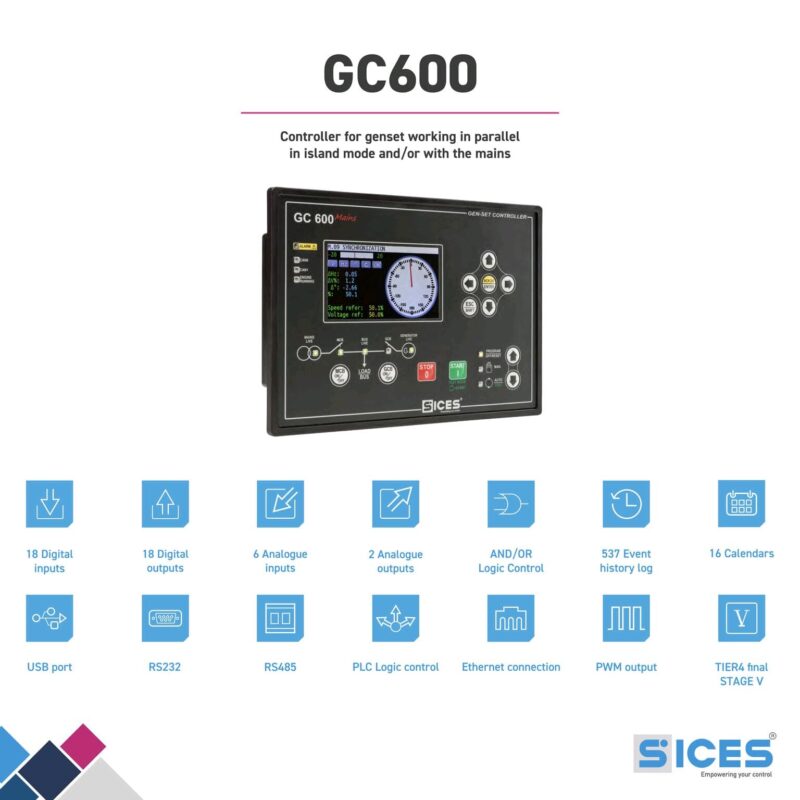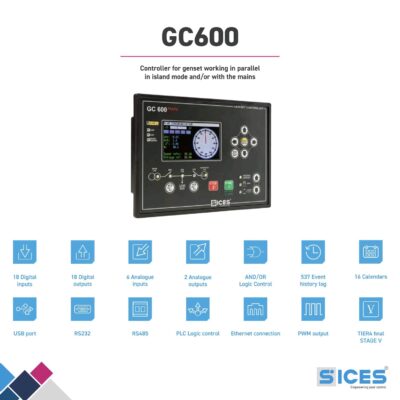 | | |
| --- | --- |
| SICES CONTROLLER | INFORMATION |
| Origin SICES GC 600 | Italy |
| SICES GC 600 Manual pdf | Download |
| APPLICATION OF SICES GC 600 | Good handling of synchronous applications including PLC to fully ensure the requirements of customers. |
| CONNECTION PORT OF SICES GC 600 | USB, RS232, RS485, CANBUS J1939, MTU MDEC, CANBUS (PMCBUS), logic LPC, Ethernet, PWM. |
---
Description of Sices GC600 synchronous controller
TTTT Global is currently a genuine Sices

synchronization controller

 representative.

The highly capable SICES GC600 processor-based genset controller, is extremely well featured for parallel applications, it includes a large PLC to ensure customers' onsite application requirements can be fully met.

A large full colour display makes these controllers suitable for a wide range of applications while presenting operating status in a clear easy to view format.

Available in two versions, It can be interfaced with both CANBUS J1939 electronic engines and traditional engines, with digital/analogue sensors.

Based on the type of plant, the most convenient version is available:

Sices GC600 TTTT is well recommended in case of multiple gensets working in parallel In island mode.

Multiple parallel to the mains is also included.

GC600Mains is the perfect solution for the management of a single genset working in parallel to the mains by the internal power regulator.

This version is especially recommended in case of CHP plants, where some additional performances are required for the management of the auxiliary services of the plant. Soft loading and unloading is automatically performed. In this case, the controller is able to directly control the Mains Circuit Breaker also in manual mode, through the specific button on the controller.

Both GC600 versions have a PLC with PID blocks. Customized logics are therefore available, avoiding the use of external traditional PLC.

Based on the load demand, the controller is able to automatically start/stop the genset.

A smart load management is available, in case of a power station composed by gensets of different nominal powers, it is possible to automatically select the most convenient gensets able to supply the load, avoiding any waste of fuel and power.

Automatic running hours equalization is also available. GC600 and Sices GC600 Mains have a TFT 4.3'' high-quality coloured display, for an easy and quick visualization of the genset measures and statuses.

Comprehensive communications are also available as standard, like USB, RS232, RS485 (insulated) and Ethernet for the remote monitoring. The adjustable parameters of the controller allow its use for standard and customized tasks.

All the parameters can be set directly by the controller's keyboard or, alternatively using the free software tool (BoardPRG3), available from SICES' website. It is also available a free PLC editor software, for PLC logic setting.

GC600 and GC600Mains provides storage for occurred events and periodical data. Stored info can be accessed and viewed from the front panel display.

GC600 and GC600Mains include a hardware watchdog able to advise the user in case of the internal microcontroller failure.

On the TTTT Global site, there are not only Sices GC600 pdf but also Sices GC600 manual.
---
Specifications of Sices GC600 synchronous controller 
Available in two versions: GC600 and GC600Mains.

Graphic color display TFT 4.3'' – 480×272 pixel – Visual area 95 x 54 mm.

PLC with PID functions included.

Interfaced with both electronic and traditional engines.

Measurements: Mains/bus and genset voltages, frequency; genset currents

(…/5A or../1A).

Active, reactive and apparent power measures.

Engine speed and battery charge voltage.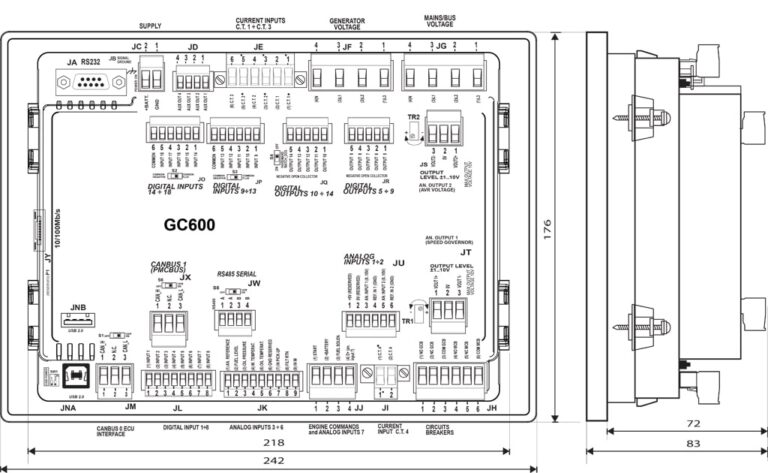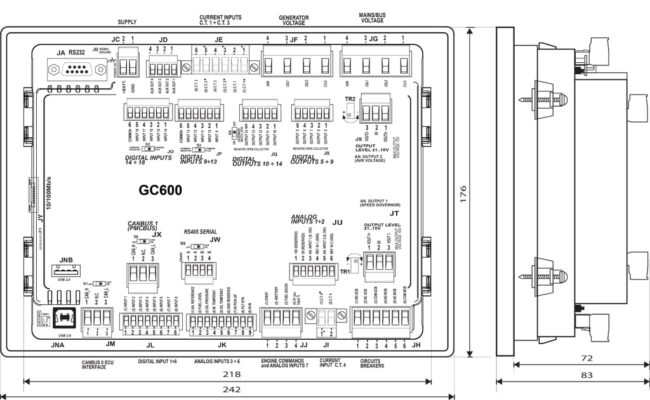 ---
SICES GC600 SYNCHRONIZING CONTROLLER SPECIFICATION
Connection port
18 digital input ports.

18 digital output ports.

6 analog input ports.

2 analog output ports.

AND/OR logic control gate.

USB port.

RS232 Modbus RTU serial port (external modembene can be connected here).

RS485 Modbus RTU insulated serial port.

Interface CANBUS J1939 and MTU MDEC insulated.

Insulated CANBUS (PMCBUS) for load sharing.

LPC logic control gate.

Ethernet port.

PWM output.
Other options
REWIND – GPRS/GSM/GPS device.

Modem PSTN/GSM.
Functions that can be installed
Engine diagnostic code.

Checking daily.

Real-time clock with rechargeable Lithium battery inside.

Fuel pump management.

Event diary.

Pre-heating and cooling management.

Remote start and stop.

Override function.

Timer for maintenance schedule.

Programmable siren.

Measure motor speed by selector, frequency or W.

Programmable by PC or using the controller's keypad.

Remote firmware update.

Contact SMS.

SNMP, NTP (for automatic clock update), DNS and DHCP support.

N.1 Threshold when the load decreases. Additional logics are available with PLC functions.

Regulation of authority to operate and react internally.

Internal load sharing.

Internal Synchronizer.

Powerful load management suitable for plants composed of generators of different power.

Interface Can Insulation for PMCBUS application (Load – share and manage parallel).

Up to 16 generators are interconnected.

Supports up to 16 MC100s.

Up to 4 alternative configurations.

Factory configuration is easy.

N.3 Energy reserve levels for unexpected changes in load requirements.

Slope modulation for load and no load.
Methods of protection in Sices GC 600
Main protective measures
Frequency change ratio (81R ROCOF).

Vector transformation.

Low voltage (27).

Overvoltage (59).

Low frequency (81U).

Excess frequency (81O).

27T- Time dependent low voltage protection.

27Q – Low voltage protection with directional reactive power.

(FNN-VDE-QU-protected).
Generator protection
Low frequency (81U).

Excess frequency (81O).

Low voltage (27).

Voltage unbalance out of phase order (47).

Overvoltage (59).

Reverse power (32).

Loss of excitability (40).

Overload (51).

Short circuit (50).

Synchronization check (25).

Negative sequence current (46).

Maximum neutral current (50N).

Earth incident protection (64).
Engine protection
Over speed (12).

Incomplete sequence (48).

Break the belt.

Cooling temperature warning.

Oil pressure warning.

Oil temperature warning.

Water level warning.

Maximum strength.

Fuel level.

Battery failure (minimum/maximum voltage).

Automatically adjust the output power based on the main frequency value.

This feature allows active power support in case of over/under production.
Operation modes in Sices GC 600
OFF/RESET
Engine start inhibition.

The load is forced to be supplied from the mains.

When the engine is running and the operating mode is changed to 'OFF' position, the engine shutdown sequence is activated.

Reset of all alarms.

Enable parameters change (programming).
Program
Access to all programmable parameters.

Programming access can be controlled by means a three-level password.

Some parameters can be changed even if the engine is running.
Manual
Engine manual START and STOP controls are enabled.

The genset protection functions are activated.

The starting command is automatically disabled when the engine is running.

MCB and GCB pushbuttons are enabled when the genset is in operating range.

Their function depend on the operating mode selected.

Manual synchronization can easily accomplished by built in function.
Automatic
The operating sequence depends on the selected application:

Single Prime Mover, Stand-by, Stand-by and Short Time Parallel, Single Parallel to Mains, Multiple Prime Mover, Multiple Parallel to Mains.

TEST

Automatic start for testing operations with safety protections enabled.

Test can be made unloaded, loaded or in parallel to mains.

Upon mains failure, the load is immediately supplied by the genset.
Device information of Sices GC600
Supply voltage: 7 to 32 VDC.

Power Consumption: Typically less than 2W (auto mode, standby mode, LCD lamp saving operation).

Operating frequency 50Hz or 60Hz.

LCD with backlight.

Operating temperature: -25oC to 65oC.
Storage temperature: -30oC to 80oC.

Degree of protection: IP65 (including gasket).

Weight: 600 gr.

Overall dimensions: Length 244 x Width 178 x Height 83 mm.

Panel cut: Length 218 x Width 159 mm.

Capability specific to the French market EJP/ EJP-T.

EMC: conforms to EN61326-1.

Safety: Built in compliance with EN61010-1.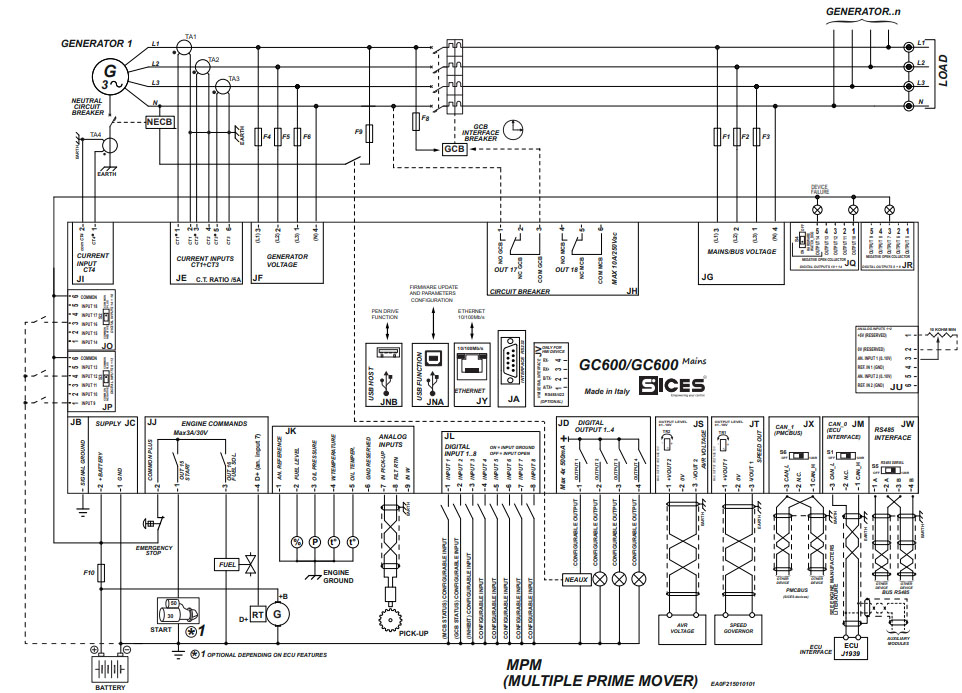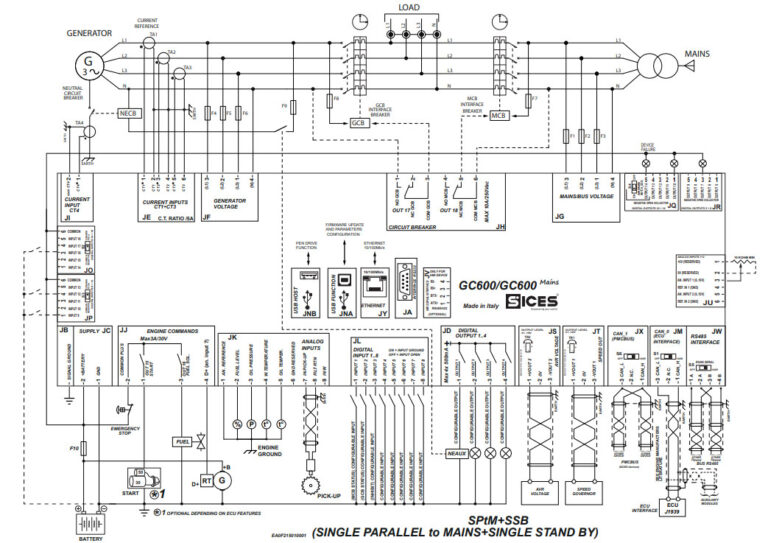 ---
If you need more information about Sices generator protection relay and automatic transfer switch for generator
TTTT GLOBAL co Ltd,.
Address: Landmark 4 Building, Vinhomes Central Park, 720A Dien Bien Phu Str, Ward 22, Binh Thanh District, Ho Chi Minh City, Vietnam.
Website: https://ttttglobal.com/en/
Hotline: +84286 2728 334
Email: Info@ttttglobal.com