Mecc Alte Alternator Introduction
Mecc Alte is the lead alternator brand in the world. With more than 70 years of research and develop, Mecc Atle has expantd the business with a very wide distributing system and after sale service network. Going thought those years, Mecc Alte have built up customer trust and their brand become one of the most popular alternator brand in the world.
Mecc Alte alternator product range are from 0.5kva to 5000kva and all kind of alternator such as alternator used for gasoline engine, potable diesel engine, industrial diesel engine, low- middle-high voltage alternator… Mecc alte alternator TTTT have 4 main factories, which are from Italy, UK, China and India.
TTTT Global have been working with Mecc Alte for many years. Now TTTT are official authorized distributors and service certers of Mecc alte in Vietnam and Cambodia. Our mission is bring a world top quality alternator to our customer and supplying the world top profession service to our customer. If you have any enquiries about Mecc Alte alternator price or Mecc Alte generator price, please feel free to contact us.
---
Advantages of buying Mecc Alte Alternator from TTTT Global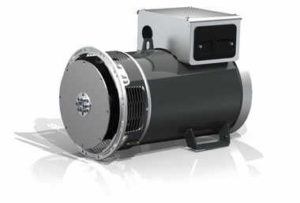 Quick and professional support from Mecc Alte spa generator local distributor
TTTT Global have many years experience in Mecc Alte alternator. We also have been trained by Mecc Alte spa generator (Italy) every year. Therefore, our technical team can support customers right away, when generator have problem and we have the right to decide warranty case and we have tool for troubleshooting easily 
Mecc Alte with fast delivery and cost saving for generator manufacturer
We can offer same day delivery, which is not many companies can do it because we always stock in Vietnam and Cambodia for the popular models. Our customers don't have to spend capital to stock Mecc Alte generator. All they have to so is focusing in product genset, when they have demand.
Long warranty term for the alternator
We offer 2 years warranty, which is longer than standard warranty (1 year). Reason of it is that we trust in our product quality and our service. 
Genuine Mecc Alte generator spare parts stocked Vietnam and Cambodia
Mecc Alte alternator (Mecc Alte generator ends) now become so popular in the market. Therefore, there are so many copy Mecc ALte spare part, which is poor quality and not accepted by our warranty policy. We always have stock genuine Mecc Alte parts in our warehouse such as AVR, DER1, DSR, UVR7, SR7, RCM2, Diode T18, T30, Stator, Rotor… All of our parts will come with import document to prove its origin and quality. 

If you buy the parts, dont forget to ask for its import document in order to make sure its genuine Mecc Alte parts.
Mecc Alte alternator for sale always comes with original documents
All Mecc Alte alternator for sale or Mecc Alte generator for sale, we always supply copy import documents such as Mecc Alte letter of Appointment – LOA, Certificate of Origin – CO, Certificate of Quality – CQ, Certificate of Warranty – CW.  
Sharing generator project information with our customers – OEMs
By doing market research and buying tender information for generator projects. Therefore we usually have genset project information, which we usually share with our customers to bring Mecc alternator with thier generator joining the project.
---
Popular power of Mecc Alte alternator range
| | |
| --- | --- |
| Production Range | Popular power |
| Mecc Alte s15w | |
| Mecc Alte s16w | |
| Mecc Alte s20w | |
| Mecc Alte s20fs | |
| Mecc Alte t16f | |
| Mecc Alte et20fs | |
| Mecc Alte es20 | |
| Mecc Alte ECP3 | |
| Mecc Alte ECP28 | |
| Mecc Alte ECP32 | |
| Mecc Alte ECP34 | |
| Mecc Alte ECO38 | |
| Mecc Alte ECO40 | |
| Mecc Alte ECO43 | |
| Mecc Alte ECO46 | |
---
Mecc Alte Permanent Magnet Alternator
This term is also known as a permanent magnet generator, which is composed of permanent magnet alternator.  Our Mecc Alte Permanent magnet generators offer significant benefits over traditional generator systems. The physical advantage is reduced weight and length while the electronic advantage is the use of advanced technology designed to maximize the efficiency of the entire energy system. 
3 types of Mecc Alte Permanent Magnet Alternator:
Permanent Magnet Alternator DC – fixed speed

Permanent Magnet Alternator DC – variable speed (high and low rpm)

Permanent Magnet Alternator AC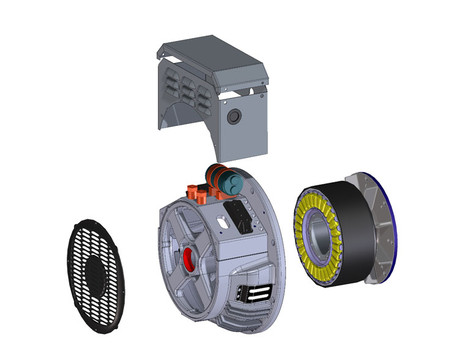 ---
Origins of Mecc Alte Alternator 
| | |
| --- | --- |
| Mecc_Alte_Range | Origin |
| Mecc Alte Alternator (0.5kva – 5000kva) | ITALY |
| Mecc Alte Generator (100kva – 5000kva) |  UNITED KINGDOM |
| Meccalte Alternator (0.5kva – 700kva) | INDIA |
| Meccalte Generator (5kva – 2000kva) | CHINA |
---
Mecc Alte official authorized distributors in Vietnam & Cambodia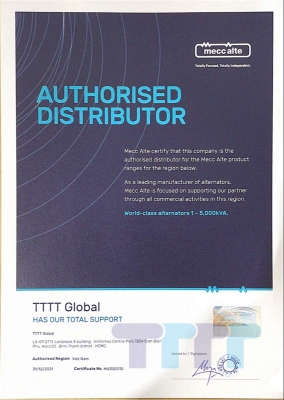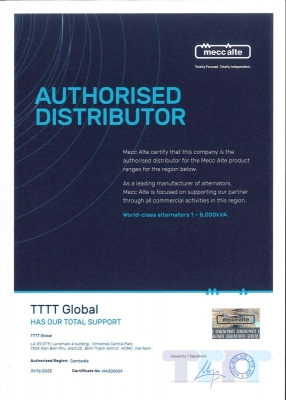 Currently, TTTT Global is the official in Mecc Alte Vietnam and Mecc Alte Cambodia, responsible for brand development, market strategy orientation. In addition, TTTT is also a Service Center that performs warranty, maintenance and repair (three-phase alternators, gasoline alternators, hydro alternators,…), supply and replacement genuine spare parts (Stato, Roto, AVR: DSR, DER, DER1, Diode T8, Diode T30,…) according to Mecc Alte's global support policies.
With a team of experienced technicians who have been trained from Mecc Alte, TTTT is confident to support customers in the most professional and friendly way. Customer satisfaction when using products is the pride of TTTT. 
---
Global Distributing System of Mecc Alte alternator
Currently, all over the world, Mecc Alte altenrator almost have representatives in other countries, which increases the positivity and actively listens to the needs of customers more easily. Each representative is responsible for distributing the products and performing warranty and maintenance. All Authorized Representatives before appointment are checked by Mecc Alte, selected from company size, ability to organize customer support and experience of after-sales technician team.
Therefore, customers can rest assured that contact for support. In addition. Representative information is also publicly announced on the global Mecc Alte website system, which customers can check for the best product support. In Vietnam and Cambodia, TTTT is in charge of the role of responsible for distribution and warranty of the Mecc Alte player, if there is any need for the product, please contact us.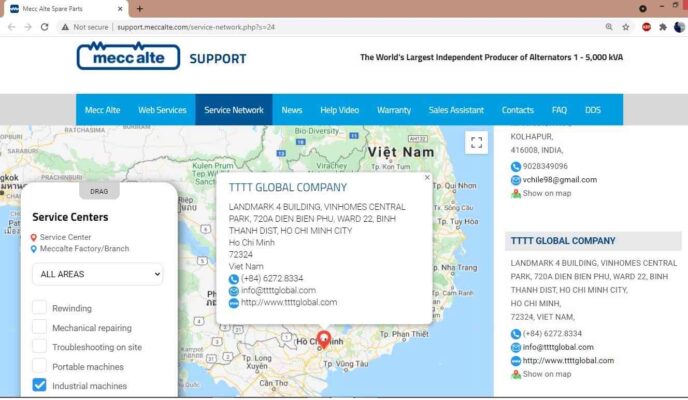 ---
Mecc Alte, leading alternator manufacturer
As prime power alternator manufacturer, Mecc Alte offers a diverse product range from low, medium and high voltage alternators, capable of supplying prime rated power (PRP) and continuously operated power (COP) across a multitude of environments.
The high quality of our components and production systems guarantees products reliability while delivering maximum power continuously. Mecc Alte has a diverse product range of prime power alternators.
Standard low voltage prime power alternators are performance enhanced with feature-rich design in order to meet the demands of the applications in which they operate. These features are standard across the ranges allowing peace of mind to our customers who need a reliable power supply.
Contact us here to find out more about our services as prime power alternator manufacturers.
Mecc Alte generator main features
1. Low reactance stator
2. Mecc Alte AVR: DSR/DER – digital regulator with multiple settings and real-time memory, logging any faults in operation
3. Single regulator can be used throughout the range
4. Innovative design with low weight and compact size
5. Easy access to check diodes
6. MAUX system auxiliary winding as standard providing >300% short circuit current. PMG optional on 180kVA and above
7. Rugged design (withstands up to 7G)
8. FEM-assisted design of the magnetic circuit for optimum performance and maximum efficiency
9. MAUX system offers dedicated and isolated power supply to the regulator
10. 2/3rds pitch winding to eliminate harmonics
11. Our prime power Mecc Alte generator's flexible design accommodates many winding voltages and many coupling types
Mecc Alte alternator main applications
1.Marine application. / 2.Telecoms & Mobile power. / 3.Welders. / 4.Rail. / 5.Hydro power. / 6.Agriculture, Irrigation. / 7.Aviation. / 8.CHP alternators. / 9.Data centres. / 10.Lighting alternator.
For many years of application, Mecc Alte alternator has carried out research and development of suitable products, guaranteeing outstanding performance, peace of mind and safety, and providing an excellent experience. long-term experience with the product. It can be seen that Mecc Alte has been present in most of the world's key industries, contributing to the enduring brand value.
Each application has an essential and certain requirement, so to determine the correct and sufficient needs, customers can contact TTTT for support on Mecc Alte products. Depending on the complexity of the project, it is possible that we will continue to research and produce the best solution in the shortest time for customers, We are always a companion of customers.
---
Comparing Mecc Alte with other popular alternators
Some types of the Mecc Alte such as low rpm, brushless alternator…
Mecc Alte produces many types of alternators such as: Low rpm alternator (<1800rpm), high rpm (3000 rpm) , brushless alternator and condensers. All products meet the best standards of Europe, specifically Italy, ensuring stable and outstanding capacity. Each has a different specialized application but all boil down to the same purpose of generating efficient backup or continuous power.
For generators mounted on alternators, Mecc Alte divides them into 2 types, which are used for gasoline or diesel engines, and we confirm that these are the two best types with the most affordable prices when placing them on the measuring table count on a possible European alternator.
If customers want to find a product that is worth the money and quality they want, then Mecc Alte is the name that cannot be ignored when in need. In addition to product quality, Mecc Alte also has a team of qualified technicians and especially maintenance spare parts are always available, helping customers not to hesitate too much when using.
Japanese used alternator
Japanese used alternator are goods that are worn out, damaged or suffered from a few small incidents that are gathered by Japan and brought back by Vietnamese traders to be recycled and used or for business purposes. As for the Japanese alternator, the quality is not verified by the company, but it is made by electricians and guaranteed, when choosing to use, we must consider it carefully.
Because this is a used product and is definitely out of warranty, therefore, the warranty of this product is almost nonexistent, when buying, you must anticipate the risks encountered. But also because of the low price of this product, it is widely used by many people. But when choosing to use them, their total cost of ownership increases due to their longevity, usage time, maintenance costs. Especially when using Japanese alternator, the resale value almost loses 50% of the purchase value.
Huu Toan Alternator – Dynamo
Huutoan alternator are researched and manufactured by Huutoan Group Co., Ltd., headquartered in Vietnam. With more than 40 years of experience, the company is one of the largest generator manufacturers in Vietnam.
Huutoan dynamo brand has a low price, relatively good quality and has a sturdy design. They have researched and accumulated many years of experience from good achievements in the world in the production process, it can be said that Huutoan dynamo can meet the needs of many households in Vietnam.
---
Contact us for more information about at:
TTTT Global co Ltd
Address:  Landmark 4 Building, Vinhomes Central Park, 720A Dien Bien Phu Str, Ward 22, Binh Thanh District, Ho Chi Minh City, Vietnam.
Website:https://ttttglobal.com/en/
Hotline: +84286 2728 334
Email: Info@ttttglobal.com