Mecc Alte Italy history
Mecc Alte Italy was found in 1945, it has been almost 70 years research and development. Today, we are one of the world most popular company in Alternator industrial. With a world wide distribution system,  wide after sale network, strong foundation and rich experience, Mecc Alte now is developing stably more than ever, starting building up factories and appointing distributors system all over the world including India, UK, China and Mecc Alte Vietnam is one of distributor in the system.
---
On behalf of Mecc Alte Italy, UK, India & China, Singapore appointed TTTT continue as Mecc Alte Vietnam & Cambodia.
In fact, TTTT has been a member of Mecc Alte Asia distributor network since 2018 approved by Mecc alte Singapore. We have been operating as Mecc Alte Vietnam and Cambodia with an officially authorized distributionship and Service Center. TTTT Global's role is to provide warranty, maintenance and genuine spare parts for all customers using our alternators.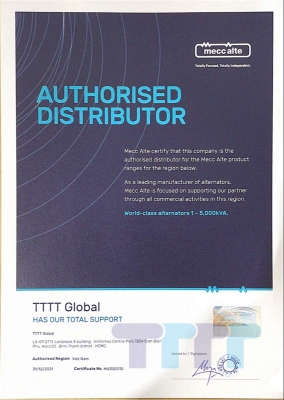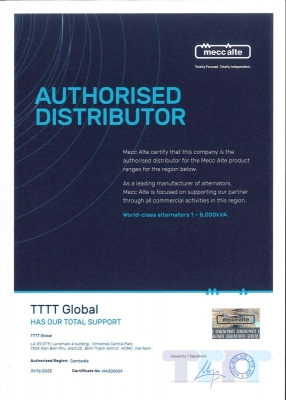 With the dynamism and determination in brand promotion and marketing, TTTT has brought the Mecc Alte alternator to become close to all OEM customers in the generator industry in Vietnam and Cambodia. Besides success of Mecc Alte, we have to mention about the quality of products. Mecc Alte with European quality and production standards, we have setup 3 more factories in 3 different countries with exactly the same quality such as Mecc Alte India, China and Mecc Alte UK
The Group has more than 70 years in the industry of manufacturing industrial alternators, a daily output of more than 1,400 units along with more than 1200 employees of the group worldwide and the entire team of TTTT is also in it, This is a great pride for us.
From 2020 to 2021, thanks to effective marketing efforts and strategies, TTTT has been appointed to become distributors of Mecc Alte Vietnam TTTT and Mecc Alte in Cambodia. This is the 3rd year in a row that TTTT has been trusted and seen that TTTT has been doing well its responsibilities in particular and developing development of the Mecc Alte brand in general.
---
Main product range of Mecc Alte
Industrial alternators
Power range from 5kVA to 5000kVA with series such as: ECP3, ECP28, ECP32, ECP34, ECO38, ECO40, ECO43 and ECO46. There are a total of 4 origins: Italy, UK, India and China, for Southeast Asia, the good in the warehouse of Mecc Alte based in Singapore. In addition, to support customers, especially in the capacity range from 80kVA to 300kVA, TTTT always has a warehouse in Vietnam, always ready for delivery.
Portable alternator (gasoline + diesel engine)
This is an extremely popular line of alternator for Mecc Alte users, because of the variety of uses. Power range from 1kVA to 16kVA with series such as: S15W, S16W, S20W, S20F, S20FS (gasoline generator) and T16, T20 (diesel generator). There is only one of Italian origin. Suitable for household use and specialized equipment.
Genuine Mecc Alte spare parts
As a Representative in Vietnam, TTTT always has genuine Mecc Alte generator parts available, including Stator, Roto, Diode T18 (used for capacity from 400kVA or more), Diode T30 (used for less than 400kVA) and AVR voltage regulation: DSR (<400kVA), DER / DER1 (>=400kVA).
Reference: Sices Italy
---
Contact us for more information at:
TTTT GLOBAL co Ltd,.
Address:  Landmark 4 Building, Vinhomes Central Park, 720A Dien Bien Phu Str, Ward 22, Binh Thanh District, Ho Chi Minh City, Vietnam.
Website: https://ttttglobal.com/en/
Hotline: +84286 2728 334
Email: Info@ttttglobal.com
---
CATEGORY: TTTT NEWS
RELATED POSTS
---