SICES D-Monitor is a custom color screen, provides a graphical representation of the generator's and module's status, status, alarms, and operation. heat. D-Monitor is especially suitable for cogeneration CHP (combined heat and power chp). The D-Monitor is used in a requirement to visualize and control the power and heat of the system.
SICES customizable LCD color display

INFORMATION

Origin SICES D-MONITOR

Italy

SICES D-MONITOR Manual pdf

Download

APPLICATION SICES D-MONITOR

Provides graphical images of the generator's condition, status, and alarms, and also the thermal module.

Especially suitable for cogeneration CHP plants (combined heat and power systems).

CONNECTION PORT SICES D-MONITOR

RS-232C, RS-422/ 485, Ethernet, USB, SD/ SDHC.
---
Main information of SICES D-MONITOR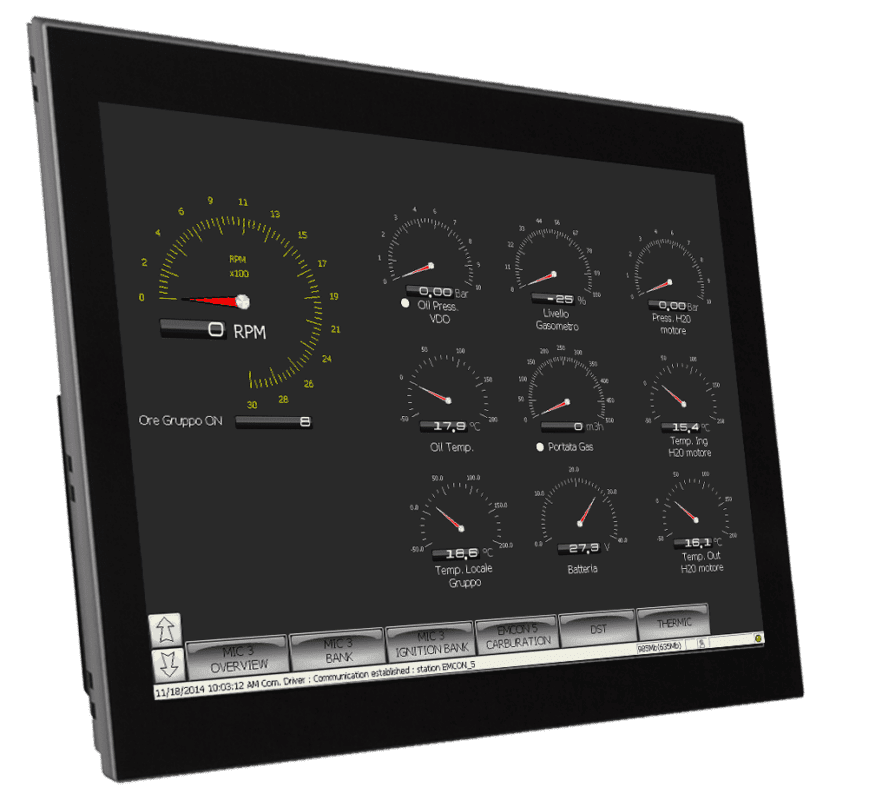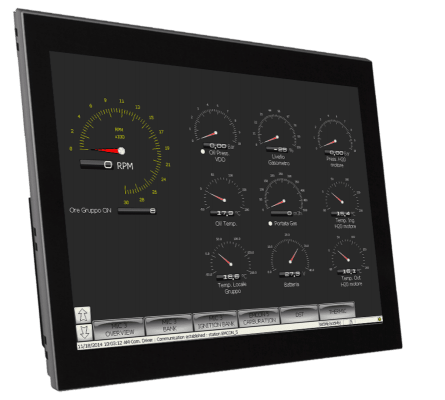 TTTT Global is currently a genuine  Sices generator controller representative.

The D-MONITOR is a touch screen with color LCD control panel, providing instant graphical visualization of measures, status, alarms, referred to both generator and thermal module.

Particularly suitable for cogeneration (combined thermal power) CHP plants where visualization and control of both the electrical and thermal performance of the system is required.

Sices D-Monitor TTTT Widescreen (12.1" and 15.6") 800×600 Pixel resolution can be combined with the DST4602 and DST4602 Evolution controllers, choosing whether to use the controller display or not.

The controller can be programmed via a connected laptop to change or set parameters.

There are two versions of SICES D-MONITOR with different screen sizes of 12.1" and 15.6".

When using the DST4602 SCM Box controller, you can connect the controller to the D-Monitor via a serial Modbus RS232/ RS485 MODBUS RTU cable or an Ethernet TCP/ IP cable.

Additional devices allow remote access to support and display information from an external PC on the D-MONITOR.

The connection between the DST4602/ DST4602 Evolution controller and the D-Monitor can similarly be accomplished via a serial Modbus RS232/ RS485 MODBUS RTU cable or an Ethernet TCP/ IP cable.

In addition to the measures managed by the controller (voltage, current, power, energy, contacts and generator status), D-MONITOR has been specially designed for cogeneration plants. CHP (combined thermoelectricity), where some means of graphical display are required, eg: (PT100, thermocouple, thermostat and solenoid valve).

On request, D-Monitor can display and change a number of set points, related to the engine's carburetor and injection systems.

D-MONITOR is a tailor made product based on your factory, additional customization pages are available on request based on customer needs.

On the TTTT Global site, you can download Sices D-MONITOR manual pdf
Reference: Hybrid charge controller
Reference: Sices RN200
---
SICES D-MONITOR Specifications
Connection ports
Serial port (COM1): RS-232C.

Serial port (COM2): RS-422/485.

Ethernet (LAN).

USB (TYPE-A).

SD/SDHC card: V.2.0 card slot.

In addition to the controller inputs and outputs, a number of additional inputs and outputs can be viewed on the D-Monitor using dedicated pages:

3 DITEL IN with up to 48 additional digital inputs.

3 DITEL OUT with up to 24 additional digital outputs.

3 DIIVIT with up to 12 additional analog inputs V and A.

6 DITHERM/ DIGRIN with up to 18 additional analog inputs for temperature readings.

3 DANOUT with up to 9 additional analog outputs.

Functions that can be installed
Record data periodically and on historical logs.

Simplified diagram according to what is set up on the DST4602 and DST4602 Evolution controller boards.

Alarms and locks included in the DST4602/ DST4602 Evolution use In/Out on the controller.
Calculated values 
Generator voltage and power supply.

Generator current.

Generator and main frequency.

Battery voltage.

Oil pressure/temperature.

Coolant water temperature.

Fuel level.

RPM (Number of Revolutions).

Active power (P, kW).

Reactive power (Q, kVAr).

Apparent power (S, kVA).

Power factor (Cos φ).

Energy meter.

Value calculated for both generator and mains.

Active power (P, kW), reactive power (Q, kVAr), apparent power (S, kVA), power factor (Cos φ) on the mains (total and single phase).

Active and reactive energy counters (input and output).

Total active and reactive power of all generators providing.

Provide generator set load percentage.

Total active and reactive energy counters of all generators of the same class.
Device information
Display: TFT color LCD.

Screen size: 12.1" and 15.6".

Backup data: SRAM 320 KB.

Touch panel: Resistive film (analogue).

Input voltage: 24VDC.

Input voltage limit: 18 to 36 VDC with 3-pole connector.

Operating temperature: 0oC to 50oC (32oF to 131oF).
Storage temperature: -20oC to 60oC (-4oF to 140oF).

Humidity: 80% (no condensation).

Protection level: IP66.

Certification: UL-508, EN 55022, EN 61000-3-2/3, EN55024, EN60950-1.

Weight: 2.1kg and 3.3kg.
Overall dimensions of the 2 versions in SICES D-MONITOR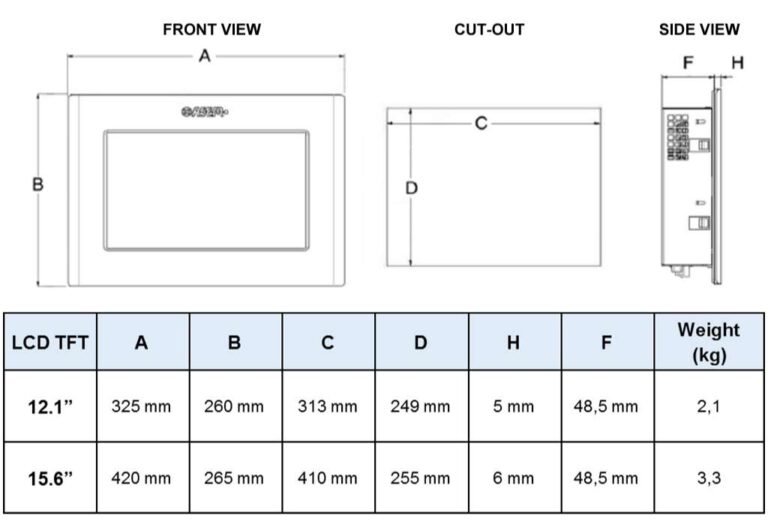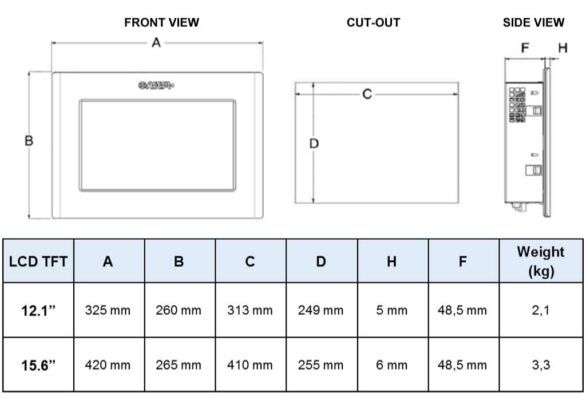 ---
If you need more information about generator control panel diagram or generator synchronization panel
TTTT GLOBAL co Ltd,.
Address: Landmark 4 Building, Vinhomes Central Park, 720A Dien Bien Phu Str, Ward 22, Binh Thanh District, Ho Chi Minh City, Vietnam.
Website: https://ttttglobal.com/en/
Hotline: +84286 2728 334
Email: Info@ttttglobal.com