Sices MP250 controller – Power protection relay is a necessary device for many power systems with or without auxiliary power, generator-using systems desperately need this protective relay for the purpose of protecting the source and both. backup power system.
Key information about Sices MP250
| | |
| --- | --- |
| SICES PROTECTION RELAY | INFORMATION |
| Origin of Sices MP250 | Italy |
| Application of Sices MP250 | The power protection relay helps the user to continuously monitor the power parameters to protect the parallel switching between the generator and the main source in case of system failure. |
| Connection port of Sices MP250 | USB |
TTTT Global is currently a genuine Sices generator controller representative.

MP250 is a power protection device that continuously monitors the power parameters, to interrupt the parallel between the generator and the main power source in case a parameter is outside the set limit range.

The digital outputs of the relay can be used to give an open command directly to a circuit breaker or to give an action command to other controllers (multiple power controllers).

Parameter settings are managed directly by the free programming tool BOARDPRG4- Sices setting software.
On the TTTT Global site, there is not only the Sices MP250 pdf but also the Sices GC MP250 manual.
---
Sices MP250 s

pecifications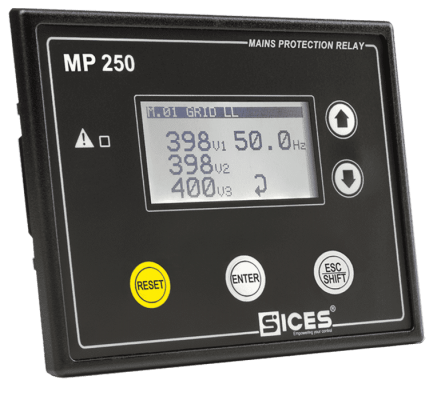 Connection port
4 digital input ports.

6 digital output ports.

AND/OR logic gates.

6 calendars and 4 timers.

1 USB port.
Functions that can be installed
The secondary circuit breaker (backup circuit breaker) can be managed, in case of open failure of the primary circuit breaker (interface circuit breaker).

A complete power protection kit is available.

The relay features multistage protection for under voltage and over voltage, under and over frequency as well as rate of change of frequency (ROCOF).

All protections are fully configurable, allowing the Sices MP250 TTTT to be used in different countries with different grid codes and providing crash bypass to prevent annoying tripping.

The MP250 is fully compatible with relevant grid codes, including G59/3 and G99.

The relay displays its operating status and alarms through the LCD graphic display and indicator lights. Front-mounted pushbuttons allow screen navigation, parameter setting, and alarm reset.

Parameters are accessible from the front panel or by connecting to a PC using the BOARDPRG4 software.
Reference: Sices ats115
Reference: DSE4520

Protection functions
Low voltage (27), 5 stages.

Minimum forward order voltage (27+), 1 stage.

Overvoltage (59), 5 stages.

Maximum zero sequence voltage (59V), 1 stage.

Maximum negative sequence voltage (59-), 1 stage.

Unbalanced voltage (46), 1 stage.

Wrong phase order (47), 1 stage.

Over frequency (81O), 2 stages.

Below frequency (81U), 2 stages.

Differential protection (87R), 3 stages.

Maximum negative sequence current (64).

Transform vectors (78).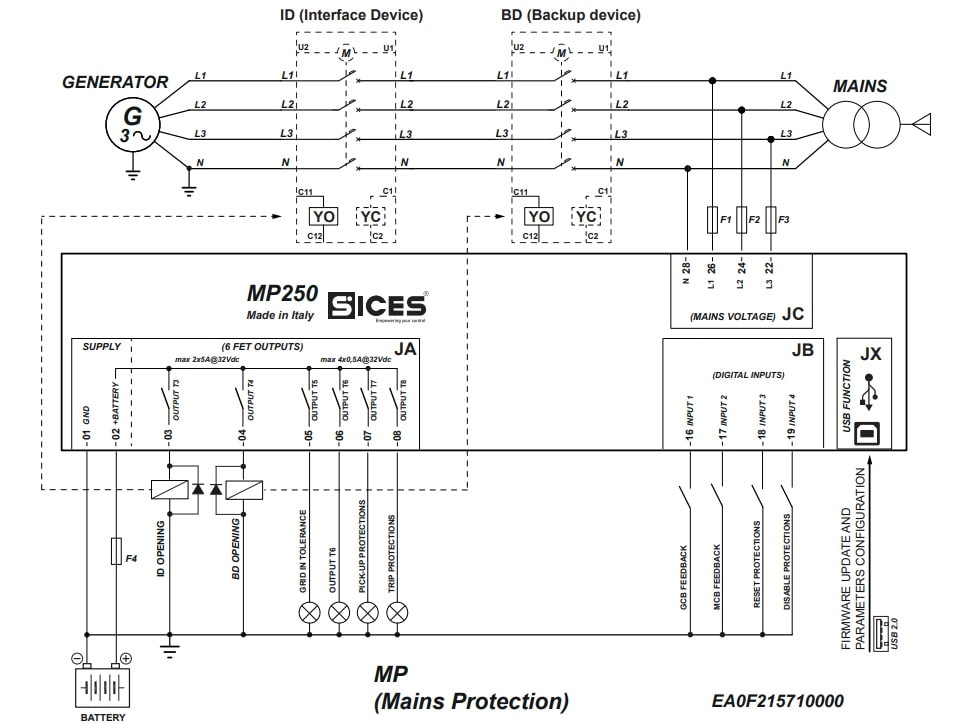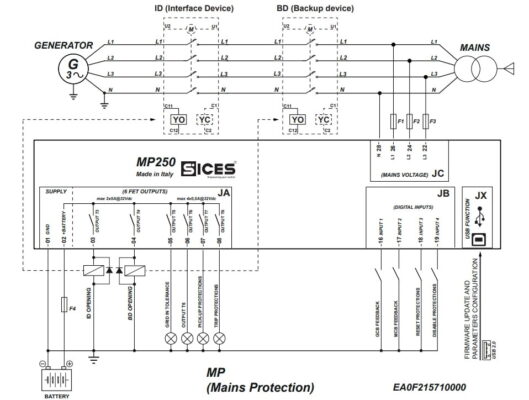 ---
Sices MP250 d
evice information
Supply voltage: 7 to 32 VDC.

Power Consumption: Typically less than 3W (auto mode, standby mode, LCD lamp saving operation).

Operating frequency 50Hz or 60Hz.

Operating temperature: -30oC to 70oC.

Storage temperature: -35 oC to 80 oC.

Humidity:10-90% (no condensation).

Degree of protection: IP65 (with free gasket).

Weight: 250 gr.

Overall dimensions: Length 141 x Width 113 x Height 39 mm.

Panel cut: 118 x 92

EMC: conforms to EN61326-1.

Safety: Built in compliance with EN61010-1.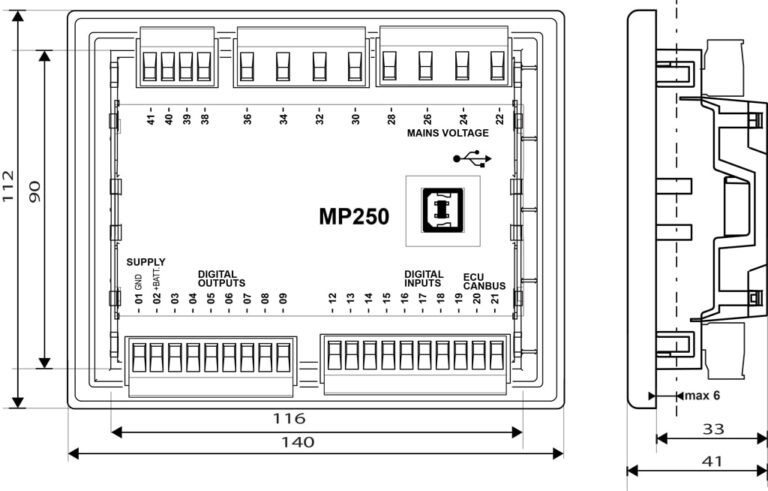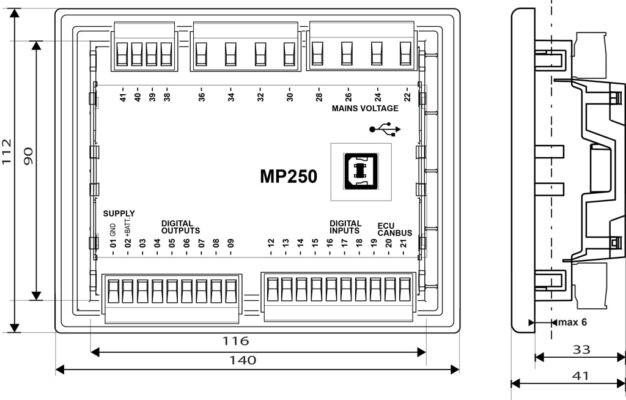 ---
If you need more information about generator control panel diagram or generator synchronization panel
TTTT GLOBAL co Ltd,.
Address: Landmark 4 Building, Vinhomes Central Park, 720A Dien Bien Phu Str, Ward 22, Binh Thanh District, Ho Chi Minh City, Vietnam.
Website: https://ttttglobal.com/en/
Hotline: +84286 2728 334
Email: Info@ttttglobal.com