1. BASIC FEATURES OF VOLVO PENTA D8 ENGINE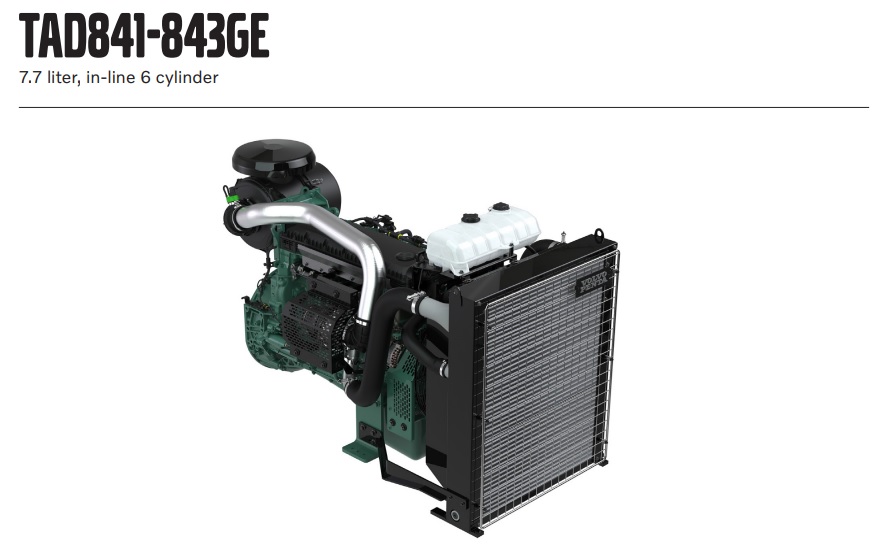 Origin information and power range of D8 engine
In 2021, Volvo Penta D8 engine series for generator, is manufactured in Pithampur, India. They are developed according to the standard for Stage/Tier 2 & 3 generators, suitable for the conditions of all countries in the world. D8 is a product line that promises to compete with other engine manufacturers in the same segment such as Cummins, FPT, Doosan, Baudouin, etc.
The capacity range of the Volvo Penta D8 TTTT series is from Volvo generator to 326kVA (Prime Power), suitable for low-mid range projects such as office buildings, hotels, logistics, small and medium-sized factories, schools, medical stations economy, convenience stores,…with a planned output of about 6,000 engines for the world in a year.
It can be seen that the appearance of the Volvo D8 series has filled the capacity range, in terms of both origin and performance. The engine is expected to launch around October 2021, at the moment due to the difficult Covid-19 epidemic, everything has been rescheduled. Hopefully in the future we will see the first D8 engines operating in Vietnam.
VOLVO PENTA D8 Tier 2/3 INTRODUCTION
---
2. OUTSTANDING CHARACTERISTICS OF VOLVO PENTA INDIA MADE GENERATOR ENGINE
3 models of the D8 engines for generator are all produced in India by Volvo Penta India. This is not the first time Volvo Penta D8 engine. We have launched it many years ago with our Volvo truck engines but engines for Volvo generator India is the first time.
2.1. PERFORMANCE SPECIFICATIONS
D8 series 4-stroke engines have a total of 6 cylinders in line, each cylinder capacity is 7.7 liters, cylinder displacement 110mm x 135mm, in addition, they are equipped with the most advanced control system of VOLVO PENTA is EMS2.4, CAN SAE J939 connector, RoHs2 environmental safety standard… comes with strong performance to 2 turbo charges and electronic speed control.
When customers order engines, they will come with a cooling water tank and a full filter including: Oil filter, fuel water separator filter, fuel filter, air filter, … in addition to specialized pumps and especially the unique hand pump of the VOLVO PENTA brand.
Reference: Volvo Penta parts near me
Reference: Best diesel engine
2.2. SPECIFICATIONS ON SIZE, WEIGHT AND SAE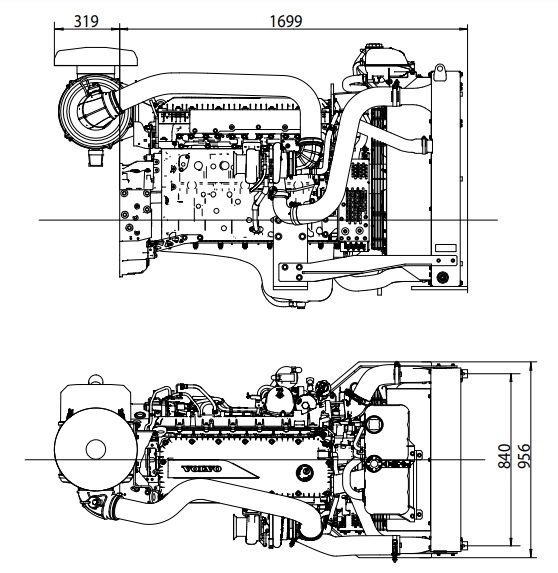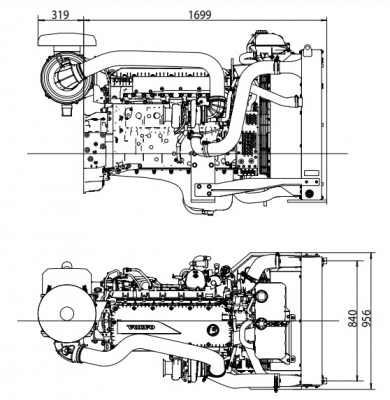 The performance of D8 engines is strong, but it is worth mentioning here that they are designed to be very compact, saving space for customers with limited machine space such as projects in the inner city.
All 3 models of the D8 meter (TAD841GE ~ 250 kVA, TAD842GE ~ 300kVA and TAD843GE ~ 325kVA) have a mass of 917kg, and dimensions are (mm): 2019 x 957 x 1244, an unbelievable ratio for such an engine. engine capacity in such a segment. Meanwhile, the old line in the same segment has the following parameters: TAD734GE (250kVA, 1021kg – 1855 x 1047 x 1342) and TAD1341GE-B (300kVA, 1596kg – 2206 x 1114 x 1391). This is the success of VOLVO PENTA compared to the previous model. With other engine manufacturers, advanced technologies and scientific and technical achievements are applied on the D8 series itself.
The 40ft container can hold up to 11 D8 series engines, helping us to save costs and improve efficiency in ordering and shipping. As we all know to ship large items such as engines, the shipping cost is expensive each time, so this is also an advantage when competing for OEMs from other countries.
The D8 series is more diverse in SAE face sizes, including 1/14 for TAD842GE/TAD843GE, 2/10 and 2/11.5 for TAD841GE, helping customers to choose matching players more easily and there are more options.
2.3. TECHNICAL SPECIFICATIONS OF FUEL CONSUMPTION, OIL
Compared to the old lines in the same segment from 250kVA to 300kVA of VOLVO PENTA, the D8 series has much better fuel and oil savings, namely: fuel saving about 4% and oil saving about 33% – 60% during use. This is a significant number, a new step in VOLVO PENTA's research and production technology.
2.4. VIBRATION AND NOISE
The D8 is equipped with an electronic system of high-pressure injection of Diesel fuel, which helps the fuel flow to be injected systematically and according to an advanced standard of VOLVO PENTA, besides the body block is designed with a mounted ladder. Perfect, solid and standard rigidity, all make the engine number 1 in the world in terms of stability when operating with the lowest noise percentage.
---
3. SUMMARY OF VOLVO PENTA D8
In short, the D8 engine is a combination of the best technologies of VOLVO PENTA in particular and the world in general: In terms of reliable and stable performance; In terms of volume and size; In terms of safety, environmental friendliness; About the lowest fuel consumption and maximum noise reduction. Ensure satisfaction of every customer who loves technology, beauty and quality. TTTT – Official Authorized Representative of Volvo Penta Vietnam.
---
Contact us for more information at:
TTTT GLOBAL co Ltd,.
Address:  Landmark 4 Building, Vinhomes Central Park, 720A Dien Bien Phu Str, Ward 22, Binh Thanh District, Ho Chi Minh City, Vietnam.
Website: https://ttttglobal.com/en/
Hotline: +84286 2728 334
---
CATEGORY: PRODUCT NEWS
RELATED POSTS
---