General information about the voltage regulator Mecc Alte UVR6 AVR
Mecc Alte AVR UVR6  is a voltage regulator designed to ensure the best performance of the generator when the generator is running or starting. The regulator is equipped with a complete protection system to protect against operating conditions that could be hazardous to the generator. The UVR6 voltage regulator is suitable for use with all Mecc Alte alternators and is a converter using power output voltage regulation above or equal to 180kVA both single-phase and three-phase.
The key components of modern UVR6 Mecc Alte TTTT voltage regulators use integrated circuit technology. These components are chosen to ensure high durability and reliability. The entire device is built on a small box that protects against vibrations and water ingress.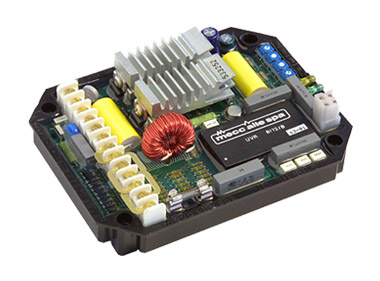 ---
UVR6 AVR Specifications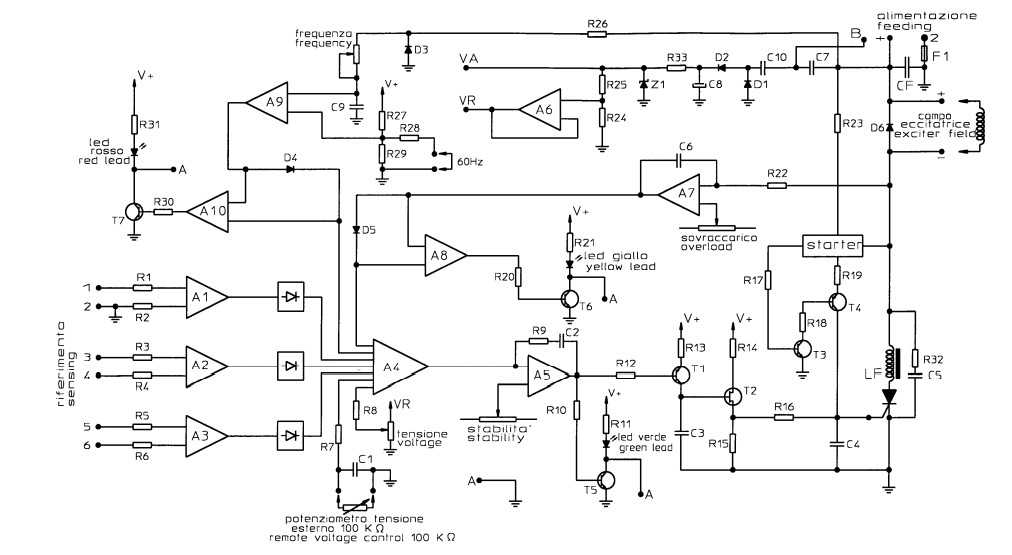 Supply
The power supply for the regulator can be from 170Vac to 270Vac or 80Vac to 16Vac at different pins on the circuit. The power supply may be separate from the sensor and in this case must be isolated from it.
Sensor
The voltage regulator is equipped with three sensor input differentials (pins 1-2, 3-4, 5-6), measuring up to three different machine voltages. This way you can test the neutral voltage on one or three phases of your choice.
The most common types of connection are: Direct voltage regulation of one of the phase windings with a star or delta connected generator or direct voltage regulation of three windings with a marked generator. star or delta and direct voltage regulation to the connections being used with a star or delta connected generator.
Adjust
Voltage accuracy: Voltage stays within 1%.
Voltage regulation: The voltage is regulated using a potentiometer marked "VOLT".
Adjustment of response time: Adjust by "STAB" stable potentiometer.
Guard
The UVR6 Mecc Alte voltage regulator is equipped with two protection systems and when they activate, the LED indicator lights up:
Overload delay protection (yellow LED).
Low speed protection (red LED).
Both cases have a protection threshold that can be adjusted by the respective potentiometer. Output voltage drop protections reduce the generator field current thereby reducing machine overheating.
Delayed overload protection allows the generator to overload for a short time to start up with different needs.
Fuse: The UVR6 Mecc Alte voltage regulator is equipped with a fuse that protects the generator from overheating in the event of a regulator failure. The fuse can be changed easily but the new fuse must have parameters like 250V – 6.3A, quick acting, class F.
References: Mecc Alte Der1
References: Mecc Alte DSR
Self-stimulation
The Mecc Alte UVR6 voltage regulator is equipped with a starter that uses the generator residual voltage to provide about excitation regulation.
This allows for safe generator excitation with very low residual voltage for short periods of time avoiding voltage changes during starting.
Connector pins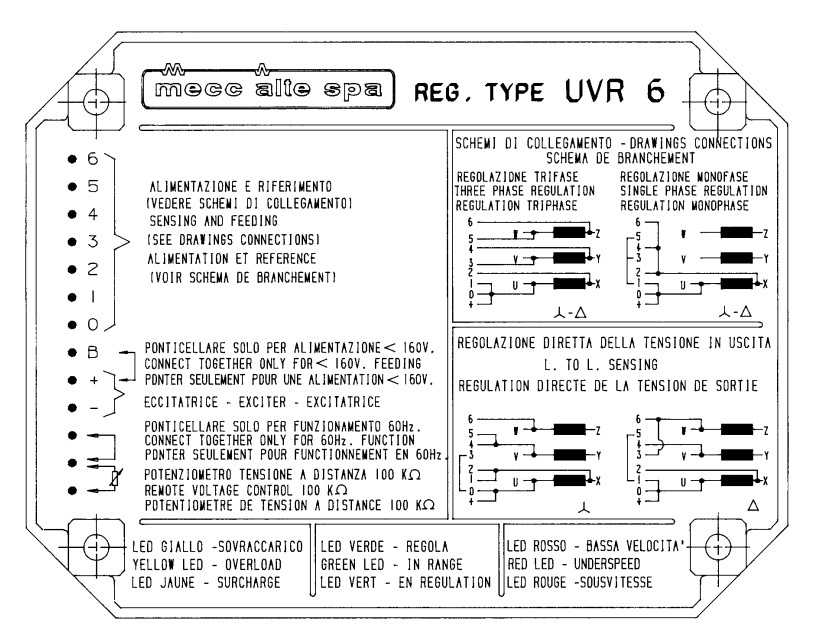 | | |
| --- | --- |
| Jack legs | Describe |
| – | Sound source pin |
| + | Power pin positive |
| B | Output voltage selector pin (170-270 or 80-160) |
| 0 | |
| 1 | Sensor pins |
| 2 | Sensor pins |
| 3 | Sensor pins |
| 4 | Sensor pins |
| 5 | Sensor pins |
| 6 | Sensor pins |
---
How to install Mecc Alte UVR6 voltage regulator
When using the Mecc Alte UVR6 auto voltage regulator, we need to install it as shown for testing and use on the machine.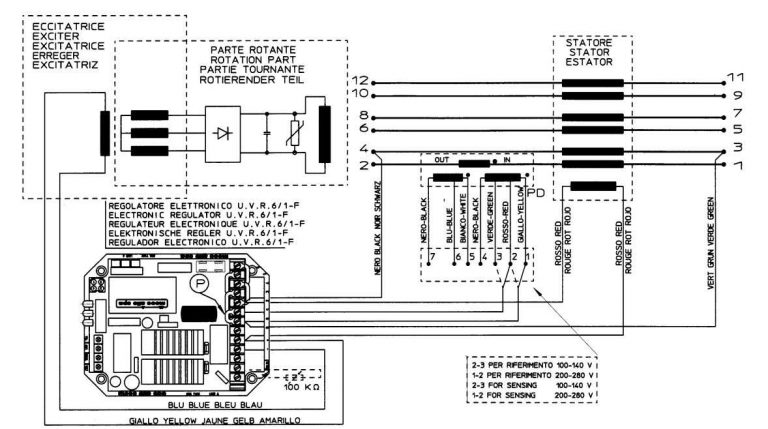 ---
How to check the error of the Mecc Alte UVR6 voltage regulator and how to replace it
There are many ways to check the error of Mecc Alte UVR6 voltage regulator such as:
Check on the UVR6 board for any explosions that cause damage to components.
Supply power and check the sensor pins on the UVR6 board.
If there are conditions of error, fire damage or failure, please contact us for support as soon as possible.
At present, the UVR6 controller is no longer used and is replaced by the DER1 Mecc Alte voltage regulator. We will advise and supply you with the DER1 voltage regulator upon request as a replacement for the UVR6 voltage regulator.
---
Mecc Alte spare parts at TTTT Global
TTTT Global is the only authorized dealer of Mecc Alte Cambodia and Vietnam, we specialize in supplying Mecc Alte spare parts such as: DER1, DSR, UVR6, SR7,… and all kinds of Mecc Alte generators with full capacity from ECP3 to ECO46 modules and single-phase generators S15, S16, S20, ES20, etc.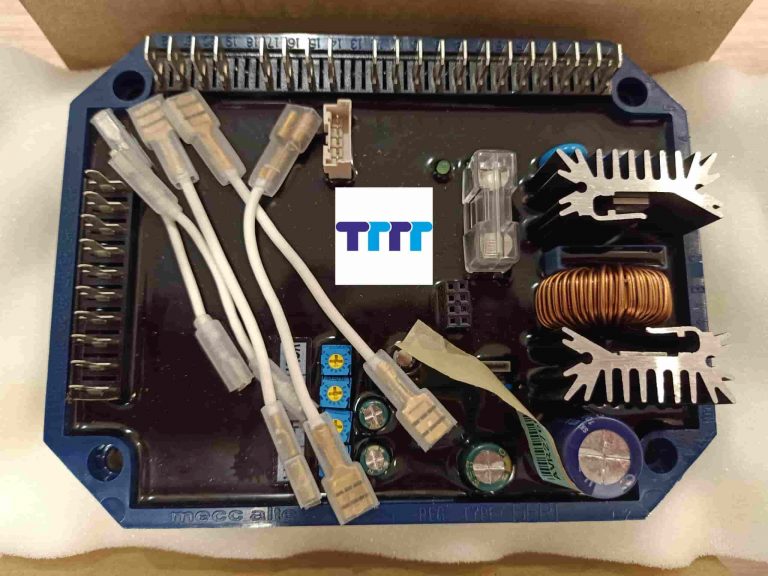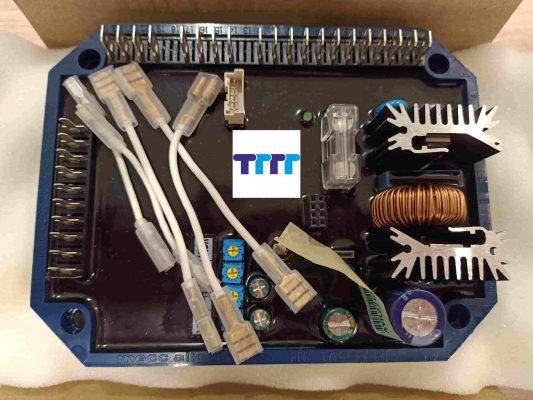 .
---
TTTT Global Co.,Ltd
Address: L4 09-OT11, Landmark 4, Vinhomes Central Park, 720A Dien Bien Phu, Ward 22, Binh Thanh District, City. Ho Chi Minh, Vietnam.
Website: https://ttttglobal.com/en/
Phone: 0286 2728334
Email: Info@ttttglobal.com