General information about the voltage regulator Mecc Alte DSR AVR
Mecc Alte DSR TTTT is a voltage regulator for synchronous generators, created to work independently and calibrated to maximize efficiency.
The regulator is made to control many different types of generators so it must be properly configured to get the best performance. The monitoring unit can be set up from a personal computer or another device, although it does not have the function of controlling the system in real time, it allows programming and visual display of the operating parameters of the DSR.
DSR can be used for generators Mecc Alte AVR:
DSR is used to optimize and popularize Mecc Alte generators from 3 to 38: ECP3, ECP28, ECP32, ECP34, ECO38.
DSR can be used for Mecc Alte generators from 40 to 46: ECO40, ECO43, ECO46.

The two versions differ mainly in the default parameters of the regulator.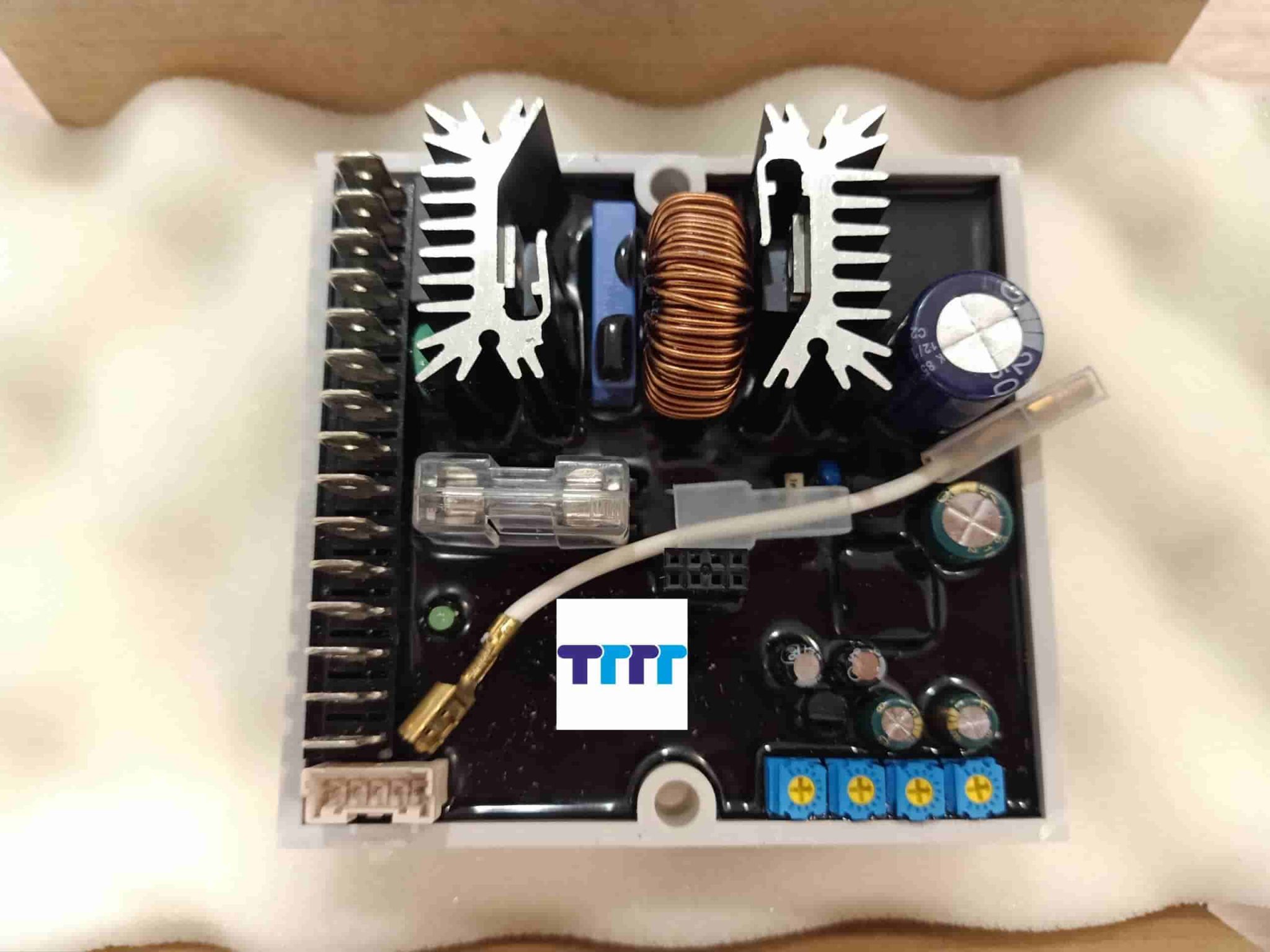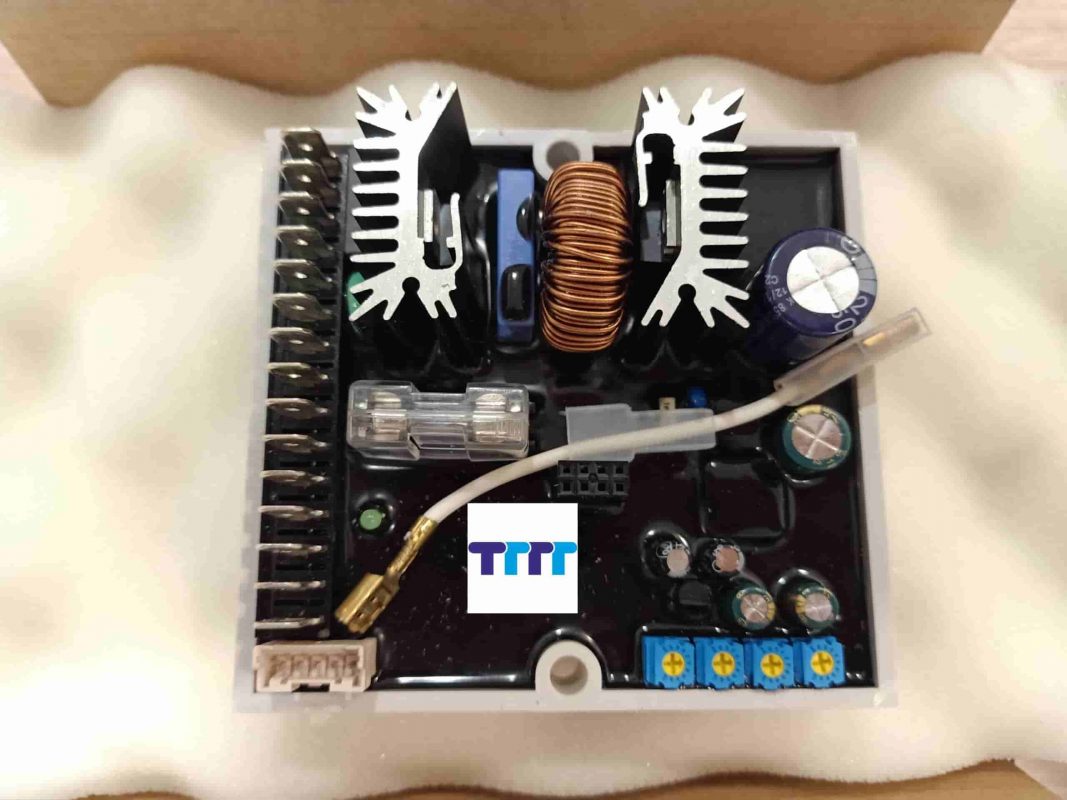 ---
Technical characteristics of the voltage regulator device AVR DSR
AVR DSR Voltage Regulator Specifications
Install the onboard DSP machine.
Suitable for all self-regulating generators.
Supply voltage: from 40Vac to 270Vac.
Frequency: from 12Hz to 72Hz.
Voltage sensor with real time or average measurement (from 70Vac to 280Vac).
Continuous output current: 5Adc.
Accuracy of voltage regulation: 1%
Analog remote control of output voltage is possible via external voltage (from 0 to 2.5Vdc) or with 10K ohm potentiometer.
Ambient temperature: from -25oC to 70oC.
Threshold and alarm levels can be adjusted.
Excitation current protection with slow interference, transient short circuit handling.
Memorize the regulator uptime (starting at revision 11 of the firmware).
USB communication interface (with optional USB2DxR module).
Diagram and dimensions of the voltage regulator AVR DSR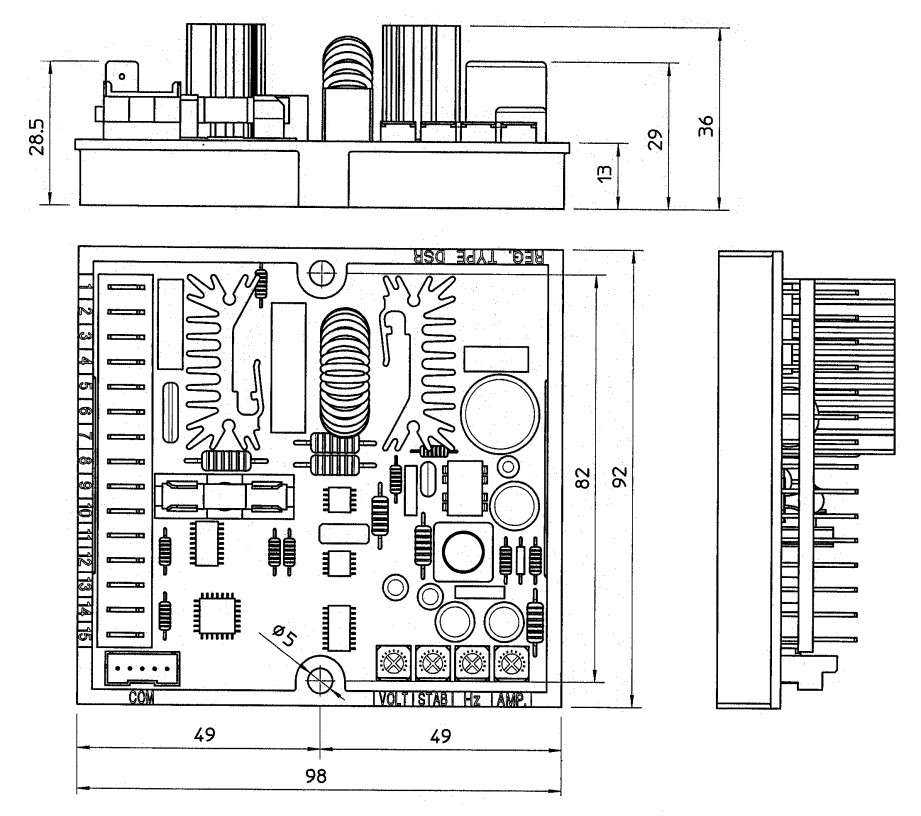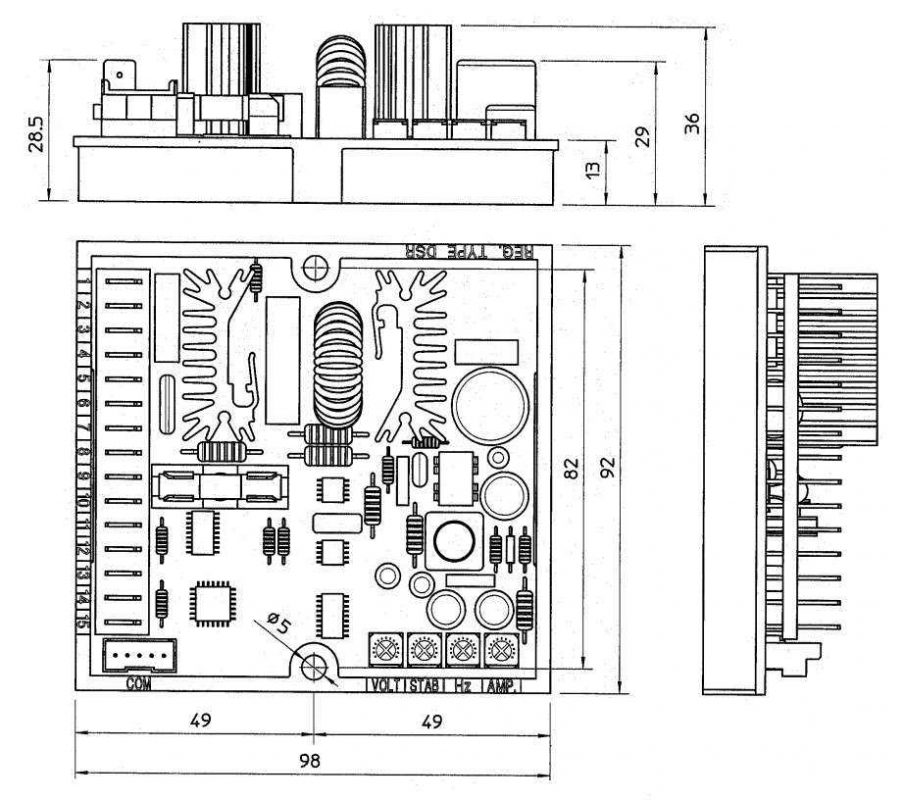 DSR voltage regulator length: 98 mm
Width of voltage regulator DSR: 92 mm
Height of DSR voltage regulator: 36 mm
References: Alternator exciter
References: Mecc Alte Der1
---
Mecc Alte DSR voltage regulator input and output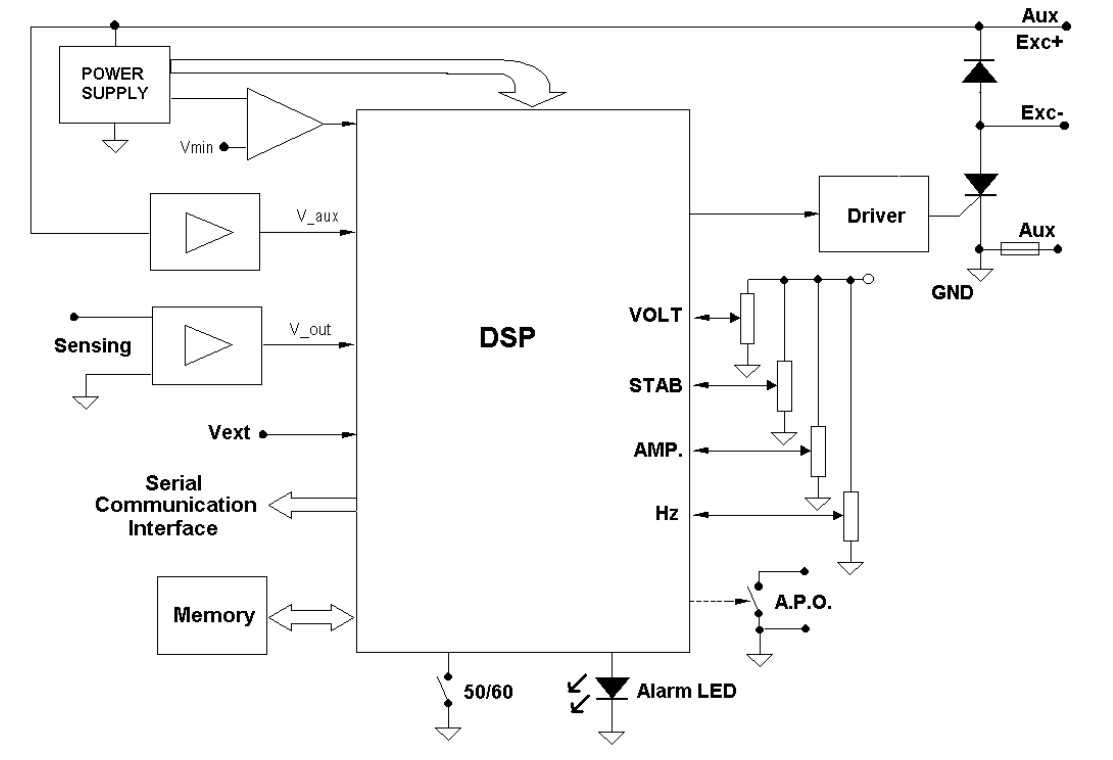 Jack legs

Name
Function

Describe

1
Exc-
Excitation
Continuous Rating: 5Adc

Transitory Rating: 12Adc at peak

2
Aux/ Exc+
3
Aux/ Exc+
Power
Frequency: from 12Hz to 72Hz

Range: 40Vac – 270Vac

9
Aux/ Neutral
4
F-phase
Sensing
Range: 140Vac – 280Vac

Burden: <1VA

5
F-phase
6
H-phase
Range: 70Vac – 140Vac

Burden: <1VA

7
H-phase
8
Aux/ Neutral
10
Vext/ Pext
Input for remote voltage control
Type: Not insulated

Range: 0 – 2,5 Vdc or 10K Potentiometer

Adjustment: from – 14% to + 14%(3)

Burden: 0 – 2 mA (sink)

Max length: 30m

11
Common
12
50/60Hz
50/60 Hz Jumper Input
Type: Not insulated

Max length: 3m

13
Common
14
A.P.O.

Active protections output

Type: Non-insulated open collector

Current : 100mA

Voltage: 30V

Max length: 30m

15
Common
VOLT
Voltage Calibration
From 70Vac to 140Vac or from 140Vac to

280Vac

STAB
Calibration of dynamic response
Adjustment of proportional gain
Hz
Calibration of underspeed protection  intervention threshold
Variation up to -20% with respect to the nominal

speed value

AMP
Calibration of excitation overcurrent  protection
Calibration of excitation overcurrent

protection
---
How to use and install the voltage regulator Mecc Alte DSR AVR
How to use the DSR AVR
When using the Mecc Alte DSR automatic voltage regulation, we need to care about the settings for the DSR, including the following basic parameters:
DSR voltage setting: Set voltage, Soft start, Slow voltage variation.
DSR Stability: Adjust stability.
How to stimulate current DSR: Description, Calibration with monitoring unit, Calibration without monitoring unit.
Low speed DSR: Description, Show calibration with monitor, Calibration without monitoring unit.
Overspeed DSR
Other parameters DSR: Vout/Vaux ratio, Short circuit time, low trigger alarm interference threshold.
How to install the DSR AVR
There are many diagrams that guide the installation of DSR voltage regulators such as:
SCC0059/04: Reference from 140V – 280V.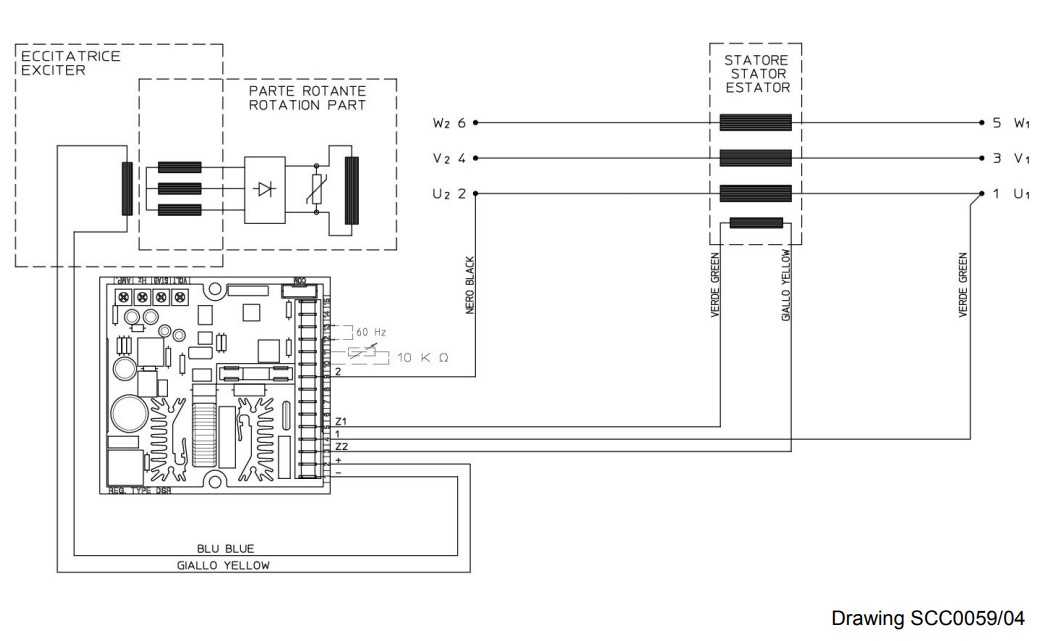 SCC0060/03: Reference from 70V – 140V.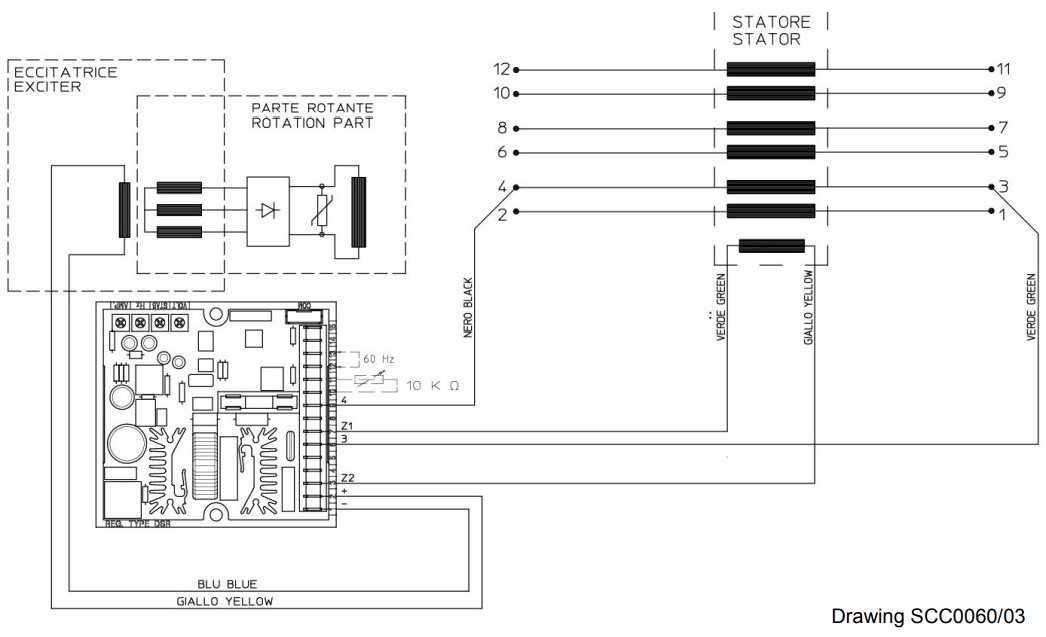 SCC0061/03: Reference from 140V – 280V.
SCC0062/03: Reference from 70V – 140V.
SCC0063/03: Reference from 140V – 280V.
SCC0064/03: Reference from 140V – 280V.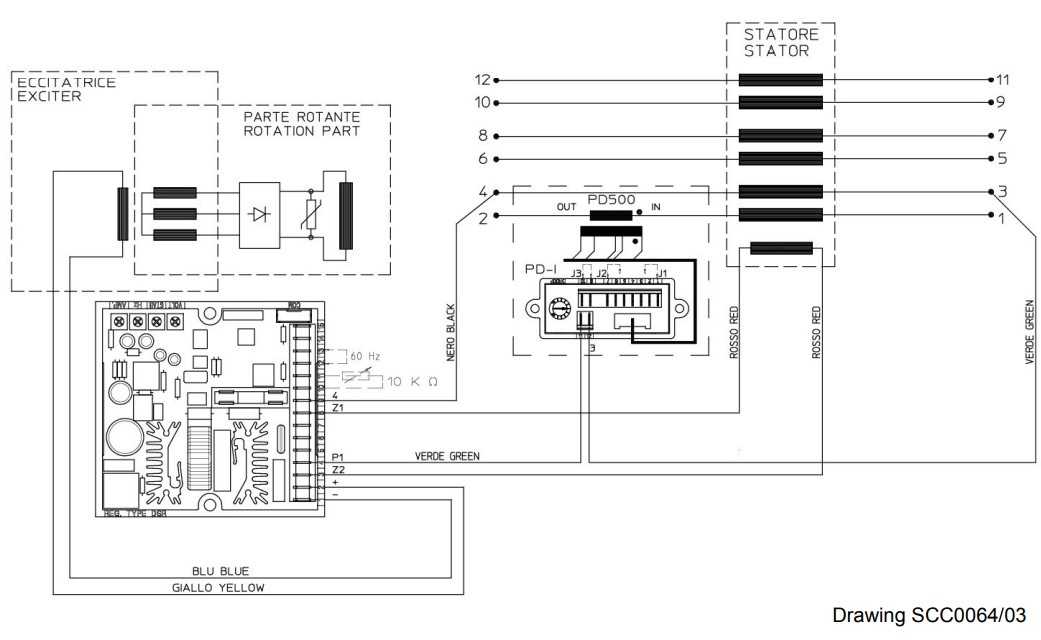 ---
How to check the error confirmation of the voltage regulator Mecc Alte DSR
There are many ways to check the error of the Mecc Alte DSR incubator such as:
Power up and check the output sensor pins on the DSR board.
Check that the parameters are the same as the settings on the system of the DSR.
See the warning light displayed during use.
Connect the DSR to the installation software.
Check on the DSR board for any explosions that cause damage to components.
If there is an error condition, fire damage or failure, please contact us for support as soon as possible.
---
Genuine Mecc Alte Avr Dsr price is available at TTTT Global
TTTT Global is the only authorized dealer of Mecc Alte Vietnam and Cambodia, we specialize in supplying Mecc Alte spare parts such as: DER1, DSR, UVR6, SR7,… and all kinds of Mecc Alte generators with full capacity from ECP3 to ECO46 modules and single-phase generators S15, S16, S20, ES20, etc. If you need Mecc Alte Avr Dsr Price, please feel free to contact us at anytime
---
TTTT Global Co.,Ltd
Address: L4 09-OT11, Landmark 4, Vinhomes Central Park, 720A Dien Bien Phu, Ward 22, Binh Thanh District, City. Ho Chi Minh, Vietnam.
Website: https://ttttglobal.com/en/
Phone: 0286 2728334
Email: Info@ttttglobal.com