VOLVO PENTA TAD1346GE – 1500rpm, 427kW at Prime, 470kW at Standby / 1800rpm, 436kW at Prime, 479kW at Standby – RoHs2 standard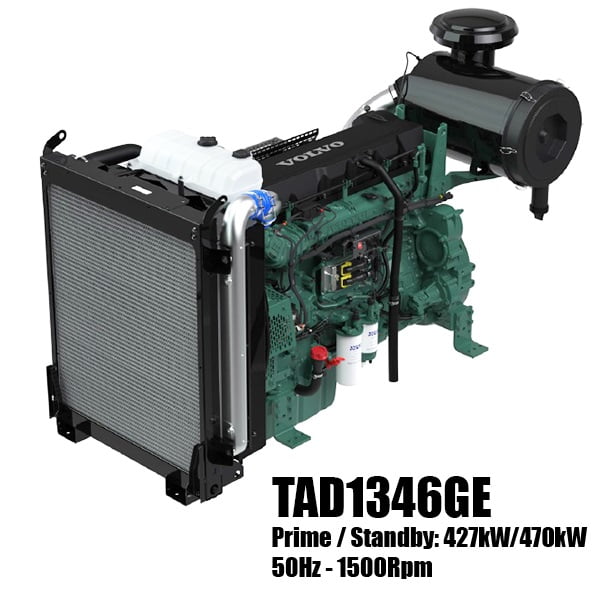 ---
– Original: VOLVO PENTA – VOLVO GROUP
– Made in: Sweden
– Model: TAD1346GE
– Prime: 427 kW – 1500Rpm / 436 kW – 1800Rpm
– Standby: 470 kW – 1500Rpm / 479kW – 1800Rpm
– 4 Stroke diesel engine with direct injection
– Dual Turbocharged
TAD 1346 GE Number of cylinders
– 6 cylinders
– Displacement: 12,78 liter
– Bore: 131 mm
– Stroke: 158 mm
– Firing order: 1-5-3-6-2-4
– Compression ratio : 18,1:1
Volvo TAD1346GE Starter system
– Electric started
– Alternator:
+ Made by: Bosch
+ Output : 80A
+ Automatic pressure regulator
– Starter motor:
+ Made by : Melco
+ Type: 105P70
+ Power: 7 kW
+ Voltage: 24V

Reference: Volvo Penta TAD1345GE
Reference: Volvo Penta TAD1641GE
Volvo TAD 1346 GE Shutdown system
– Electric shutdown
– 24VDC coil to stop motor
TAD1346GE Cooling system
– Cooled by circulating water combined with axial fans
– Cooling water capacity : 24 liter
– Cooling water tank cap is able to protect over pressure in cooling water tank
– Fan power : 6 kW
– Protection barrier
TAD1346GE Exhaust system
– Silent pipe
– Emissions escaped Vietnam standards for engine exhaust
TAD1346GE Fuel system
– Fuel transfer pump: hand pump (primer pump) and machine pump (high-pressure pump)
– Speed governor : Electronic EMS 2.4
Volvo Penta TAD1346GE Fuel type
Diesel oil
TAD1346GE Lub oil system
– Forced lubrication + self swing
– Lubricating oil filter installed in the proper position, replace easily
– Lubricating oil capacity: 36 liter
– Lubricating oil consumption: 0,04 liter/h
TAD1346GE Fuel consumption
Prime Rating
Load %
1500 Rpm
1800 Rpm
25
213g/kWh
224g/kWh
50
199g/kWh
201g/kWh
75
198g/kWh
200g/kWh
100
191g/kWh
196g/kWh
Standby Rating
Load %
1500 Rpm
1800 Rpm
25
210g/kWh
221g/kWh
50
198g/kWh
202g/kWh
75
197g/kWh
201g/kWh
100
191g/kWh
196g/kWh
Volvo Penta TAD1346GE Radiators
Circulating heat exchanger in copper
TAD1346GE Air filter
– Dry paper filter, can be removed, maintained and replaced easily
– Efficient: 99,99 %
Information can be changed by Volvo Penta without notice.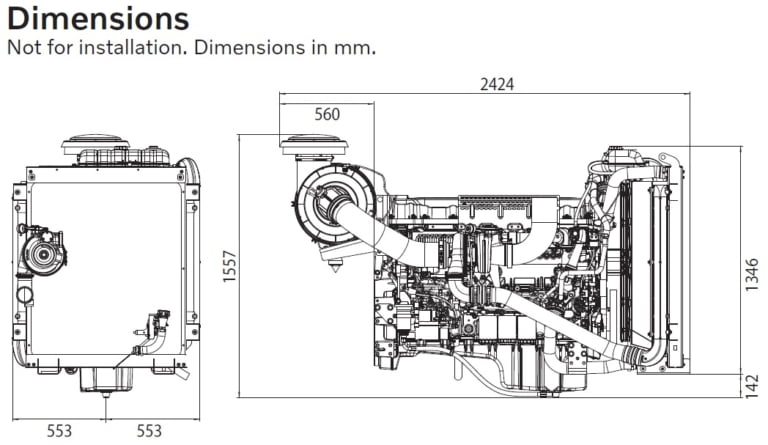 ---
If you need more information about Volvo Penta engine or Volvo Penta manuals, please fell free to contact us at:
Company name: TTTT GLOBAL co Ltd,.
Address:  Landmark 4 Building, Vinhomes Central Park, 720A Dien Bien Phu Str, Ward 22, Binh Thanh District, Ho Chi Minh City, Vietnam.
Website: https://ttttglobal.com/en/
Email: Info@ttttglobal.com
Phone: +84 286 2728 334.