TAD 532 GE – 1500rpm , 113kW (~ 125 kva) at Prime, 125kW at Standby
---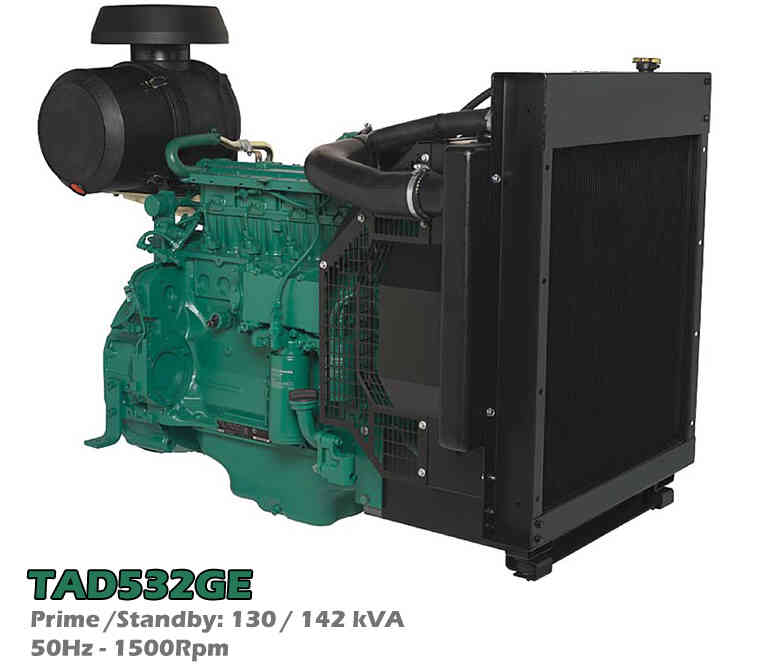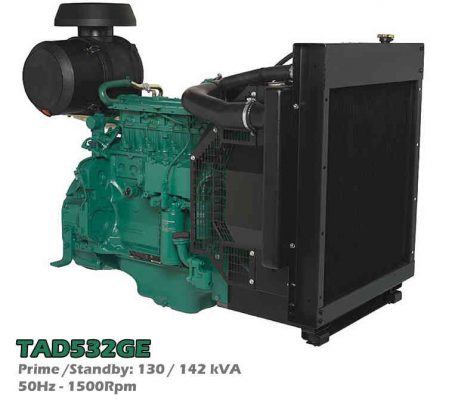 Brand: VOLVO PENTA
Made in: Germany
Model: TAD532GE
Prime: 113kW
Stand by: 125kW
4 Stroke diesel engine with direct injection
Turbocharged
Control system: Electronic EDC4
TAD 532 GE Number of cylinders
4 cylinders
Displacement: 4,76 liter
Bore: 108 mm
Stroke: 130 mm
Compression ratio : 18:1

Volvo TAD532GE Starter system
Electric started
Alternator:
+ Made by: Bosch
+ Output : 55A
+ Automatic pressure regulator
+ Made by : Melco
+ Type: 105P70
+ Power: 3.1 kW
+ Voltage: 12V / 24V
Reference: Volvo Penta TAD731GE
Reference: Volvo Penta generator parts
Volvo TAD 532 GE Shutdown system
Electric shutdown
24VDC coil to stop motor
TAD532GE Cooling system
Cooled by circulating water combined with axial fans
Cooling water tank cap is able to protect over pressure in cooling water tank
Protection barrier
TAD 532 GE Exhaust system
Silent pipe
Emissions escaped Vietnam standards for engine exhaust
TAD532GE Fuel system
Fuel transfer pump: hand pump (primer pump) and machine pump (high pressure pump)
Speed governor : Mechanical
Volvo TAD532GE Fuel type
TAD532GE Lub oil system
Lubricating oil capacity: 13 liter
Lubricating oil consumption: 0,08 liter/h
TAD532GE Fuel consumption
100% at Prime: 214g/kWh
75% at Prime: 210g/kWh
50% at Prime: 213g/kWh
Volvo Penta TAD 532 GE Radiators
Circulating heat exchanger in copper
Volvo Penta TAD532GE Air filter
Dry paper filter, can be removed, maintained and replaced easily
Efficient: 99,99 %
Information can be changed by Volvo Penta without notice.
---
If you need more information about  Volvo Penta manuals or epc online volvo penta,  please fell free to contact us
Company name: TTTT GLOBAL co Ltd,.
Address:  Landmark 4 Building, Vinhomes Central Park, 720A Dien Bien Phu Str, Ward 22, Binh Thanh District, Ho Chi Minh City, Vietnam.
Website: https://ttttglobal.com/en/
Email: Info@ttttglobal.com
Phone: +84 2862728334