The current demand for electricity is increasing, so alternators are also being improved in terms of quality and quantity of brands to serve the needs of customers in Vietnam. Therefore, leading to an increase in demand for made in Japan used alternator are very popular because of their durability and product quality.
In particular, Japanese alternators are very popular, especially in households because they are reasonably priced, have high durability, good performance, and have a long-standing brand name. Here, to have a more general view, TTTT will work with customers to learn more about the second hand alternator.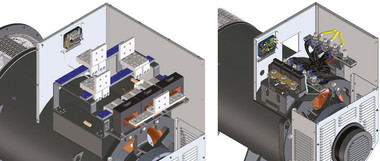 ---
What is a Japanese used alternator?
In fact, the used alternator TTTT  are used Japanese products, but are still in normal operation, with only a small or negligible effect on appearance and some non-essential details. Companies doing business in power generation application in Vietnam have imported to supply the market. The types of Japanese second hand alternator for sale even have much better quality and durability than conventional alternators.
---
Structural features of second hand alternator
The alternator is also known as Dynamo. They are one of the very important equipment of the generator. The transmitter has the function of converting mechanical energy into electrical energy through the rotating and stationary parts. The alternator includes the following systems:
Stator
Also known as the sensing part. This is a stationary part of a collection of electrical conductors wrapped around an iron core and cannot be moved. In addition, they are also known as the part that generates electromagnetic current when the variable fields of the rotor pass through.
Rotor
The rotor is also known as the armature. Unlike the sensing element, the armature has the ability to move, thereby generating varying magnetic fields.
Reference: Huutoan alternator
Reference: Generator avr price
---
Compare Japanese used alternator and new brand alternator
In term of Price
The second hand alternator price will be about 30% lower than quality brand name alternator like Mecc Alte alternator but higher than Chinese alternators. So, if your budget is not too big, you can also consider using them, they can completely meet the needs.
However, for some end customers who do not have much expertise in choosing a alternator, it is likely that they will buy high-priced goods, there are many places where the price of Japanese alternators is 2 to 3 times higher than the other suppliers.
If you intend to choose a cheap old alternator or a second hand alternators generators, please learn carefully the information related to this product, or you can ask highly qualified people to choose to buy it for you. Otherwise, think about other cheap new alternator that both ensure quality and have long-term warranties.
In terms of quality, stability and durability
Compared to the quality, the old Japanese alternators have better durability and quality than some types from China, sometimes their quality can be compared with the others from famous brands in Europe or America.
However, to find a good quality second hand product is not easy, if not too difficult compared to the colorful market at the present time. Currently, there are many units that provide old alternators, however, the quality of most products is not up to the expectations of buyers.
---
Common Customers of Used Alternator for sale
Although, Japanese used alternator for sale have many advantages, but not everyone is suitable for use. You should only use them if you fall into one of the following situations.
Subjects with certain knowledge and experience background in buying and using old alternators.

There is not too much budget to buy a new one.
Although the quality and price of used alternators are very good, they are not really suitable for everyone. If you need to buy a alternator for a business, factory or buildings with high and continuous electricity demand, it will not be suitable. You may consider using new types to ensure quality and capacity.
---
Experience of buying used alternator
Simply search the word: Used alternator near me ? The answer will come with many kind of used alternator. if you note and follow the experiences below:
Capacity
Capacity is the first criterion that buyers need to pay attention to choosing the right capacity for the individual/organization's electricity needs will avoid excess/lack of capacity. If in case the alternator does not meet the capacity, you will have to replace it with the alternator with a larger capacity. This means more costs.
For old Japanese dynamos, when they arrive in Vietnam, the capacity will not reach the original capacity. For machines that still work well, the capacity reaches 80-90% compared to new machines. For example, the capacity of a Japanese alternator is 5kW, when returning to Vietnam, this capacity is only about 4kW. This ratio may change depending on the power consumption of the electrical equipment or the installation conditions of the machine.
Production date of the second hand Japanese alternators
Japanese brands of alternators usually have a long service life. Normally, the machine can run up to several decades is normal.
When choosing to buy a machine, customers need to choose products that are manufactured as close as possible. Because for too long production machines, the machine's capacity will not be guaranteed, components may corrode over time.
Address to sell reputable Japanese alternators
There are many different ways you can find a good second hand alternator for sale. You can search on Google, on Facebook or refer to acquaintances.
However, no matter which facility you go to, you must also pay attention to the warranty factor. This is the basis for you to decide whether to buy products at that store or not. Because during use, if the old dynamo is poor quality, it can be damaged at any time, you will have to spend an additional amount of money to repair the machine if there is no warranty policy.
---
Contact us for more information about wind turbine alternator or alternator for water wheel :
TTTT GLOBAL co Ltd,.
Address:  Landmark 4 Building, Vinhomes Central Park, 720A Dien Bien Phu Str, Ward 22, Binh Thanh District, Ho Chi Minh City, Vietnam.
Website: https://ttttglobal.com/en/
Hotline: +84286 2728 334
Email: Info@ttttglobal.com
---
CATEGORY: PRODUCT NEWS
RELATED POSTS
---