TTTT sends to customers self-use and maintenance of Mecc Alte generator manual for Series ECO and ECP, alternator capacity from 5kVA to 2800kVA. Through this document, customers can confidently and proactively grasp the situation of the dynamo in use in an overview and most accurate way.
Here is the link to download the document:
OVERVIEW OF MECC ALTE SPA GENERATOR MANUAL
First, when entering the Mecc Alte spa generator manual, customers will learn about the applications and general information of the Mecc Alte alternator. Warnings and basic parameters are explained in detail to ensure that customers understand the content. Besides, the terms are also explained and deeply drilled to describe their meanings for customers to easily grasp when read Mecc Alte generator manual TTTT.
---
MAIN POINTS IN THE MECC ALTE ALTERNATOR MANUAL
The basic general structure in the Mecc Alte alternator manual is outlined in detail in the form of a 3D image, consisting of many components assembled together, but the two main main components are still the Rotor and the Stator, they are responsible for rotation and power generation functions. These two components are meticulously polished and covered by multiple layers of protection against the corrosive effects of the operating environment where the machine is located.
In general, the Mecc Alte generator structure has been optimized in recent years with a new look that is more flexible, easier to disassemble and install, but still retains stability in voltage and performance durable motion. The Mecc Alte alternators always maintains good performance in many environments such as: Desert, marine environment, oil and gas, …
All of Mecc Alte spare parts
The Mecc Alte spare parts shown below are all available to replace the mast cells should a failure or damage be minor. Customers can easily fix it by themselves under the guidance of the Official Authorized Representative in Vietnam – TTTT Global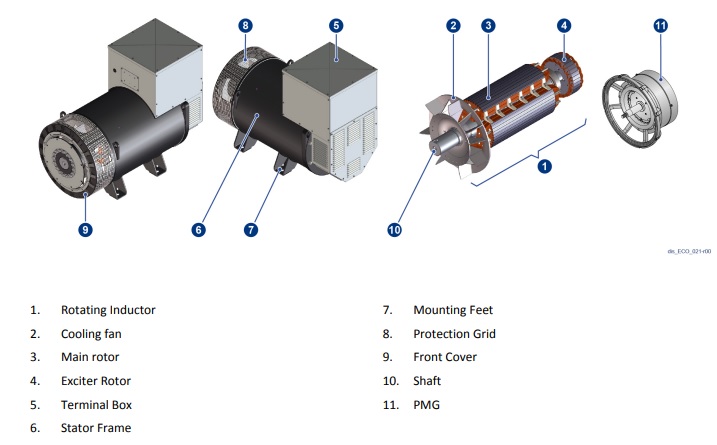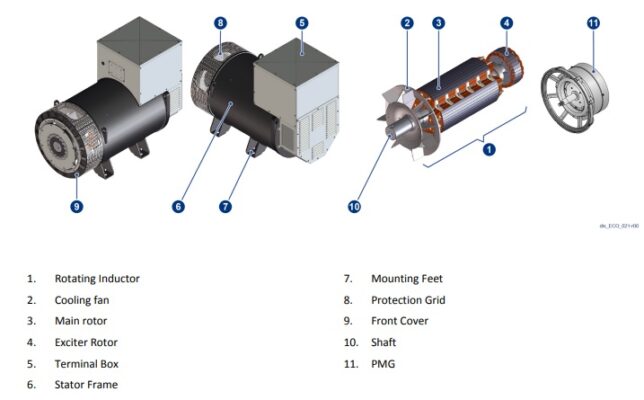 Types of Mecc Alte Avr
If the above structures are considered as power, the Mecc Alte Avr – automatic voltage regulator is the brain of the alternator. They are designed based on technology that optimizes control and maintains a stable level of power generation.
The AVR are all made in Italy, meeting the world's best standards for industrial components manufacturing. The Mecc Alte alternator has two types of AVR: AVR DSR for capacity below 400kVA and AVR DER1 for capacity from 400kVA or more. They apply digital technology to increase operational efficiency as well as control for technicians.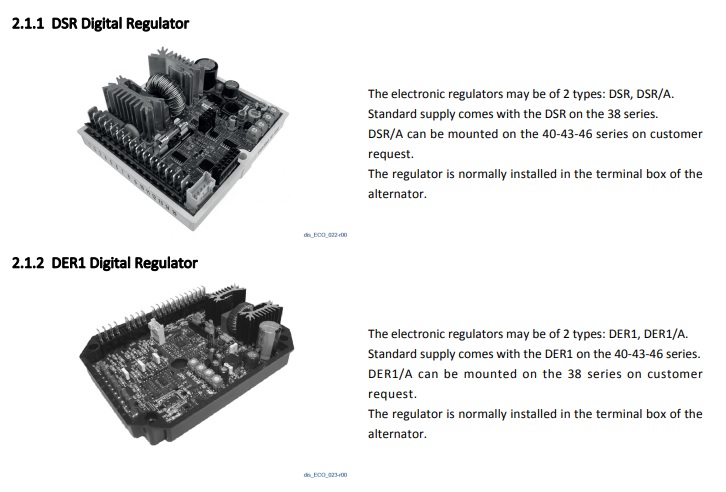 Mecc Alte alternator heater
Standard of Mecc Alte alternator are typically manufactured with IP23 protection for industrial equipment. This is a good level of protection. In addition, Mecc Alte also covers the surface of the transmitter components with protective layers such as: Heat Protection, Sea Steam Protection, … to help ensure durability and increase the life of the alternator. Moreover, Mecc Alte also offer alternator heater as the maximum protection for alternator
In addition to the information about the alternator above, customers can learn many basic related issues such as: Weight, size, drawing of Mecc Alte alternator, Standard stability, Mounting height The installation of the alternator, the wind power and ventilation when in use, and the materials used to manufacture the components are also listed in this document.
---
STANDARD PACKAGING & TRANSPORT CONDITIONS
All Mecc Alte products before being shipped are strictly inspected and carefully packaged and preserved. The packing box is a moisture-proof wooden crate, assembled and connected closely through strong metal joints. The transportation as well as lifting and lowering will save many stages and avoid causing much damage to the Mecc Alte alternator when an unnecessary incident occurs.
Mecc Alte Packaging – Source: Mecc Alte  
Reference: Wind turbine alternator
Reference: Alternator for water wheel
---
WIRE STRUCTURE CONNECTION IN MECC ALTE ALTERNATOR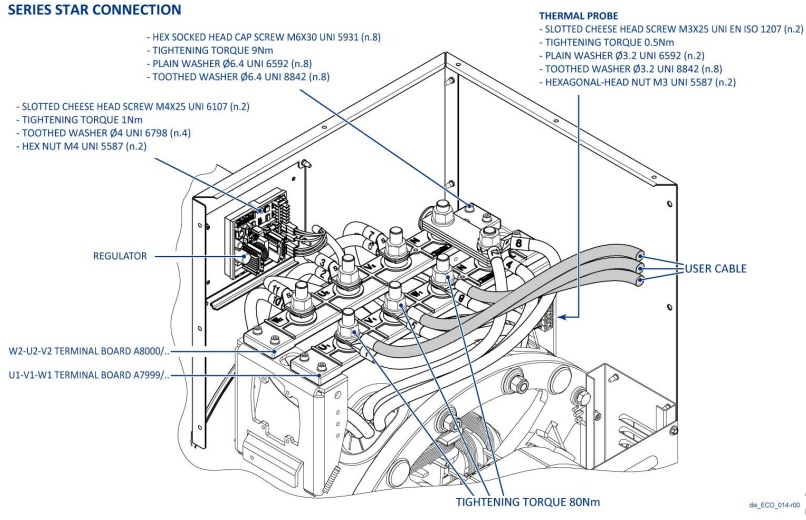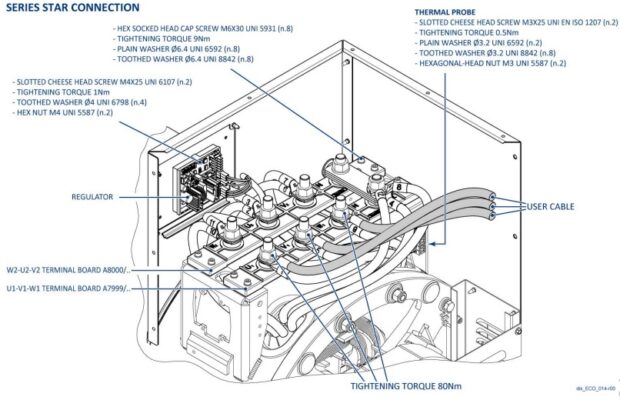 In this part, customers will observe the internal structure of the Mecc Alte alternator in the form of a 3D sketch drawing. Usually, uniform lines are numbered 1 through 12, making it easy for a technician to assemble and adjust if necessary. In the case of phase transition, for example, it is also a step that requires understanding and detailed drawings.
---
MECC ALTE GENERATOR TROUBLESHOOTING & MAINTENANCE
In this document, Mecc Alte generator troubleshooting, maintenance schedule as well as inspection process can be provided to specific customers: Maintenance time for each component, Procedure and how to perform the maintenance, Notes when performing the maintenance, … This makes customers proactive and flexible in controlling the quality and stability of the Mecc Alte alternator.
Each stage is listed in the form of visual content and images, helping customers visualize easily when performing, contributing to avoiding unnecessary errors that directly affect the alternator. For specific information, you can contact the Mecc Alte Official Authorized Representative in Vietnam for advice and support whenever there is a need for maintenance as well as troubleshooting in use.
---
MECC ALTE ALTERNATOR WIRING DIAGRAM
The electrical diagram is an indispensable piece of information in the documentation of any electrical device. The design of Mecc Alte have provided a detailed drawing of the electrical connection diagram in the alternator to help customers easily read and connect when there is a need to produce industrial alternators. Each detail is outlined clearly, avoiding unnecessary confusion when using.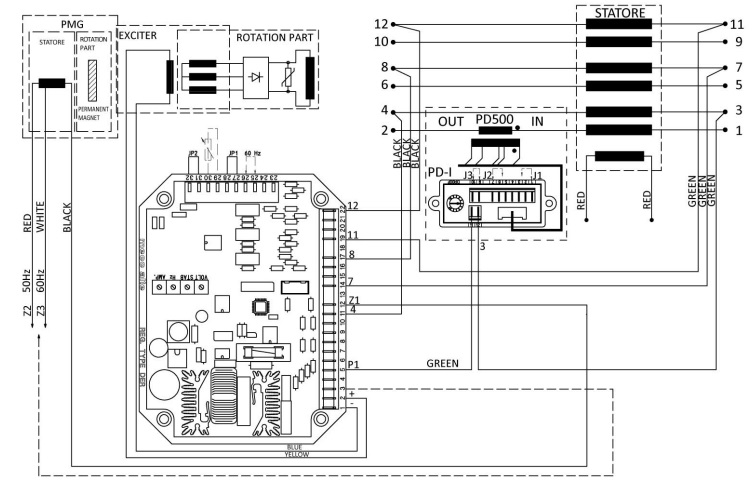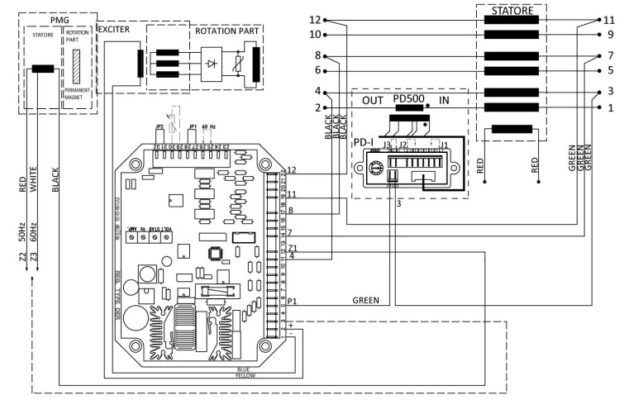 ---
Contact us for more information about Mecc Alte Alternator price:
TTTT GLOBAL co Ltd,.
Address:  Landmark 4 Building, Vinhomes Central Park, 720A Dien Bien Phu Str, Ward 22, Binh Thanh District, Ho Chi Minh City, Vietnam.
Website: https://ttttglobal.com/en/
Email: Info@ttttglobal.com
---
CATEGORY: MECC ALTE ALTERATOR DOCUMENTS
RELATED POST
---