Currently, Volvo Penta impeller is being distributed with a stable output, which is a Volvo Penta spare parts for marine engine. To have a better overview of this spare part, TTTT invites you and your friends to see the article below.
What's Volvo Penta Impeller?
Volvo Penta impeller general information
Volvo Penta impeller TTTT is a part of a pump or compressor that rotates at high speed and acts as an impeller to increase the pressure and flow rate of the fluid. Impellers are made from a variety of metals such as steel, iron or copper, as well as plastic. The impeller transfers energy to the fluid as it passes through the pump, which increases the velocity of the liquid at the pump discharge port.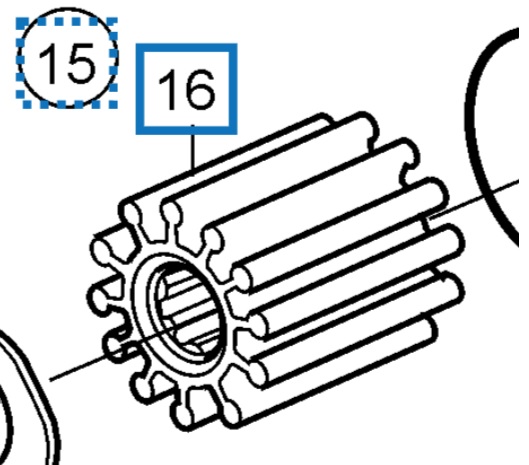 Volvo Penta impeller kit delivery and warranty time
Volvo Penta Impeller kit is warranted according to Volvo Penta's standard from 6 months up to 12 months. This period ensures customers peace of mind when using a new replacement. When there is a problem with the pump impeller, customers can directly contact TTTT for a free consultation.

Delivery time of impeller:
For stock in stock in Vietnam: Delivery time is 1-3 days depending on the locality.
For stock at Volvo Penta Southeast Asia warehouse in Singapore: delivery time from 5-7 days.
For stock at Volvo Penta warehouse in Sweden: 3-4 weeks.
Reference: Turbo Volvo Penta
Reference:  Volvo sensor
Types of impeller
Open impellers
An open impeller has a hub with attached vanes and is mounted on a shaft. The vanes do not have a wall, making open impellers slightly weaker than closed or semi-closed impellers. However, as the side plate is not fixed to the inlet side of the vane, the blade stresses are significantly lower. In pumps, the fluid enters the impeller's eye, where vanes add energy and direct it to the nozzle discharge.
A close clearance between vanes and pump volute or back plate prevents most of the fluid from flowing back. Wear on the bowl and edge of the vane can be compensated by adjusting the clearance to maintain efficiency over time. Because the internal parts are visible, open impellers are easier to inspect for damage and maintain than closed impellers. They can also be more easily modified to change flow properties. Open impellers operate on a narrow range of specific speeds.
Open impellers are usually faster and easier to maintain.  For small pumps and those dealing with suspended solids, open impellers are generally used. Sand locking does not occur as easily as with the closed type.
Semi-closed impellers
A semi-closed impeller has an additional back wall, giving it more strength. These impellers can pass mixed solid-liquid mixtures at the cost of reduced efficiency.
Closed or shrouded impellers
The construction of closed impellers includes additional back and front walls on both sides of the vanes that enhance their strength. This also reduces the thrust load on the shaft, increasing bearing life and reliability and reducing shafting costs. However, this more complicated design, including the use of additional wear rings, makes closed impellers more difficult to manufacture and more expensive than open impellers.
A closed impeller's efficiency decreases as wear ring clearance increases with use. However, adjustment of impeller bowl clearance does not affect the wear on vanes as a critically as open impeller. Closed impellers can be used on a wider range of specific speeds than open impellers. They are generally used in large pumps and clear water applications. These impellers can't perform effectively with solids and become difficult to clean if clogged.
Where to buy the Volvo Penta impeller replacement?
In Vietnam and Cambodia, if you want to do Volvo Penta impeller replacement, please contact TTTT Global Co.,ltd – Volvo Penta Dealer. Customers with any related inquiries can contact TTTT directly through the company information below.
---
TTTT Global Co.,Ltd
Address: L4 09-OT11, Landmark 4, Vinhomes Central Park, 720A Dien Bien Phu, Ward 22, Binh Thanh District, City. Ho Chi Minh, Vietnam.
Website: https://ttttglobal.com/en/
Phone: 0286 2728334
Email: Info@ttttglobal.com