The Mecc Alte charger provides a cost-effective solution for most industrial battery charging requirements such as 3A charger and 6A charger
Utilizing the latest in highly efficient mode switching technology and microprocessor control system, the range is suitable for charging most dry or water batteries and can be easily calibrated by the user. battery type.
The smart battery charging multi-stages feature ensures accurate and efficient charging of batteries, and is designed to permanently connect to batteries, keeping them fully charged without overcharging.
Smart battery charger MECC ALTE is fully protected against overload, battery reverse connection, overvoltage and overheating.
| | |
| --- | --- |
| MECC_ALTE BATTERY_CHARGER | ORIGIN |
|   Ucharge 12 Volt 6A charger TTTT |    United Kingdom |
|   Ucharge 24 Volt 3A charger TTTT |   United Kingdom |
Totally 4 models with 24V 3A battery charger and 12V 6A battery charger.

Reference: Genset battery charger
Reference: 24v 20a battery charger
---
1. UCHARGE INPUT SPECIFICATIONS
Voltage range, VIN 90 – 264V AC

Frequency 47 – 63Hz

Maximum input current 1.5A rms.

Current leakage: None
---
2. UCHARGE OUTPUT SPECIFICATIONS
Voltage / Current – Other voltages on request
+ MAS 0612 12V-6A ; MAS 0612R 12V-6A: 12.0V 6.0Apk
+ MAS 0324 24V-3A ; MAS 0324R 24V-3A: 24.0V 3.0Apk
Ripple and noise ±0.5%

Regulation current ± 1.0%

Regulated load ± 1.0%

Efficiency up to 90%

Overload protection: Constant current limiting/folding

Overheat protection: Automatic recovery combination output interrupt

Reverse Battery Protection: Automatic protection, disabled when in PSU mode.
---
3. UCHARGE WARNINGS AND LEVEL
+ MAS 0612 12V-6A; MAS 0612R 12V-6A: Float = Default 13.8V
+ MAS 0324 24V-3A; MAS 0324R 24V-3A: Float = Default 27.6V
Up (Bulk / Absorb) = Float + 4%
AC/charger failed: AC input or DC output voltage control lost

Low DC voltage alarm: Float voltage drop 12%: Alarm, drop 8%: Reset

High DC voltage alarm: Float voltage increase 7%: Alarm, increase 5%: Reset

Overvoltage protection:
+ MAS 0612 12V-6A; MAS 0612R 12V-6A: 16.0V instantaneous lock
+ MAS 0324 24V-3A; MAS 0324R 24V-3A: 30.5V lock instantly
Battery Disconnect: Open circuit on DC output (Disabled in PSU mode)
---
4. UCHARGE ISOLATION
Withstand voltage: Input – Output 1.5kV AC

Isolation resistance: Input – Output 500V DC / 100M Ohms
---
5. ENVIRONMENTAL SPECIFICATION
Working temperature -10ºC to +50ºC

Working humidity 20 – 90% RH

Storage temperature -20ºC to +85ºC

Storage humidity 10 – 95% RH

Unpacked weight 400 grams
---
6. UCHARGE MANUFACTURING MATERIAL 
Black ABS plastic case – Fine Spark Erode
---
7. UCHARGE FAIL ALARM RELAY CONTACT SET
Available on MAS 0612R 12V-6A and MAS 0324R 24V-3A models. Type C relay contactor does not contain volts to indicate fault alarm condition. The relay contact de-energizes 60 seconds after the fault occurs. Overvoltage will alarm off voltage protection de-energizing the contacts immediately.
---
8. UCHARGE TERMINATION
8.1. AC input and DC output:
Connection terminates with surge clamp screw connectors and will accept 2.5mm2 braided cable.
8.2. Optional error alarm:
Connect the terminal to a riser clamp screw connector and will accept a 1.5mm2 braided cable. Available on MAS 0612R 12V-6A and MAS 0324R 24V-3A.
8.3 Connector 'C1' (signal):
Pins 7 and 8 must be linked when the charger is also acting as a PSU.
NOTE: Reverse battery alarm and battery disconnect are disabled in PSU mode. The remaining pins are for expansion module, communication interface, firmware upgrade, etc. and should not be used.
---
9. SIZE AND INTERFACE OF MECC ALTE UCHARGE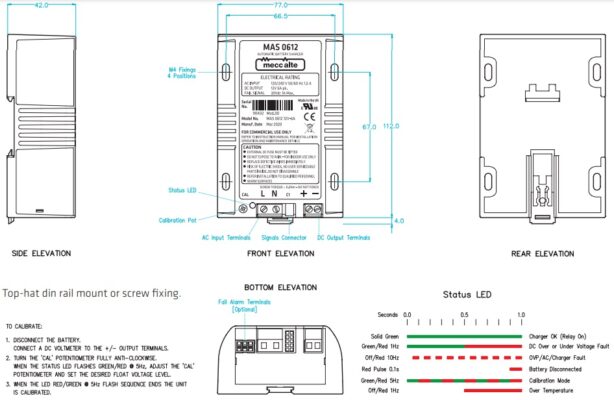 9.1. Features of uCharge
• Cost-effective
• Microprocessor control
• Compact size
• Closed electronic structure
• Powerful and highly reliable
• Automatic multi-stage charging
• Use allows continuous download
• Protection measures:
– High and overloaded
– Overvoltage
– Over temperature
– Reverse battery
• Universal AC input range
• Low Noise
• Natural cooling
• Simple calibration process
• Comprehensive alarm monitoring
• Optional fault alarm intercom
• Ul approved for UL1236 Edition 8
• cUL approved according to CSA C22.2 No.107.2-01 edition 2
9.2 Applications of uCharge
Power generator and main source; Car ; Alarm system ; Maritime ; Industrial control system; Powerful PSUs ; Mobile device.
---
Contact TTTT Global Co., Ltd to learn more details about Mecc Alte 24v 3a power supply and 12 volt 6 amp battery charger.
Address: Landmark 4, Vinhomes Central Park, 720A Dien Bien Phu, Ward 22, Binh Thanh District, City. Ho Chi Minh, Vietnam.
Website: https://ttttglobal.com/en
Phone: +84 286 2728334
Email: info@ttttglobal.com